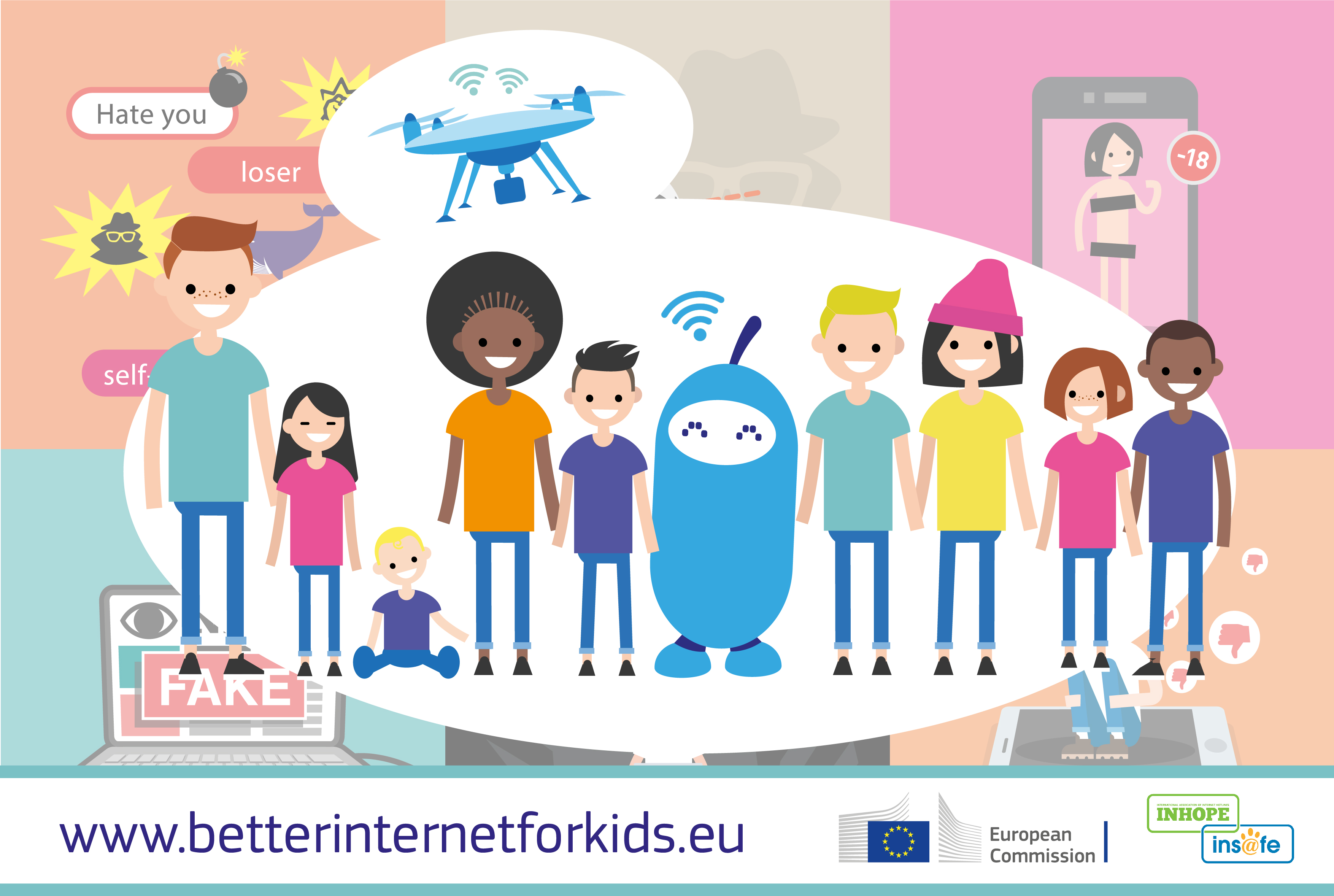 The European Union has been at the forefront of protecting children's digital rights for over 20 years. The European Strategy for a Better Internet for Children aims to expand online opportunities and actively tackle online risks for our children. It does so through a set of complementary measures, including funding, coordination and self-regulation.
At the heart of our actions is a European network of Safer Internet Centres, supporting minors, parents and teachers. Their main task is to raise awareness and foster digital literacy. Free helplines provide specific advice and information. The fight against online child sexual abuse material is led by the INHOPE network of hotlines, in close cooperation with law enforcement agencies, supported by an EU-funded IT tool.
The www.betterinternetforkids.eu portal brings together all resources and shares best practices across Europe.
For years, this network has been striving to foster a high level of digital and media literacy among young Europeans and to raise awareness of the risks they may encounter online, actively tackling major issues affecting children and young people's wellbeing.
Educating and raising awareness among young Europeans is key to addressing fundamental concerns such as tackling online hate speech and disinformation, and online stranger danger.
Every third internet user is a child
Almost 40 billion connected devices will be in use worldwide by 2025, including smart toys, watches, TVs, health trackers and more
The majority of European parents believe that digital technologies can help their children study more efficiently and that ICT use will help their child find employment
1 out of 3 parents do not implement child control tools at home
Discussing online risks with parents decreases significantly with age — only 1 in 2 students attending secondary schools regularly discuss online risks with their parents
Only half of parents with secondary school age children feel they know enough about their child's computer use
Around half of European teenagers have encountered one or more of the most frequent internet risks, such as cyberbullying, sexting or violent and disturbing content
The online content that children disliked most is unwanted sexual content, followed by violent content
Young people spend more than 4 hours online per day in addition to time for distance learning.
Highlighted by the pandemic in 2020, digital skills have become essential for work, school, and social contact, but not without digital risks, especially for children: platform-enabled harmful and illegal content, scams, disinformation, exchange of self-generated child pornography, hate speech, self-harm and age-inappropriate content have all increased
Safer Internet Centres
Through the Connecting Europe Facility and the future Digital Europe Programme, the Commission co-funds Safer Internet Centres in Member States as well as Iceland, Norway and currently also the United Kingdom. They exchange resources and good practices on online matters and risks and cover these core tasks:
National awareness centres focus on raising awareness and understanding of safer internet issues and emerging trends. They run campaigns to empower children, young people, parents, carers and teachers with the skills, knowledge and strategies to stay safe online and to benefit from the opportunities offered by digital technologies.
Helplines advise children, teachers and parents on any concerns they face online. More than 63,000contacts were made in 2020 with cyberbullying, harmful content and online relationships being the top concerns.
A network of hotlines allows members of the public to anonymously report online child sexual abuse material. Reports are then passed on to the appropriate body for action. According to INHOPE the number of online images of suspected child sexual abuse processed by the hotlines almost doubled between 2017 and 2019. 
Youth panels allow young people to express their views and values, and exchange knowledge and experiences concerning their use of online technologies, as well as tips on how to stay safe online. They advise on internet safety and empowerment strategy, help create innovative resources and disseminate safety messages to their peers.  Youth participation, including youth-led events, has become increasingly mainstreamed, involving a more diverse group of children.
Betterinternetforkids.eu
The leading EU-funded online safety hub. This portal offers free of charge, regularly updated information, resources, advice and tips on online safety for children, parents, teachers and other interested users across Europe. The portal also supports coordination and capacity building for the Safer Internet Centres network.
Safer Internet Day
The European Commission's flagship event on online safety, Safer Internet Day, is now celebrated in around 200 countries and regions and reaches millions of people every year through new resources, events, and other activities.
On Safer Internet Day 2017, The Commission launched the 'Alliance to better protect minors online', a multi-stakeholder platform including leading media and ICT companies aiming to improve the online environment for minors tackling harmful content and behaviour through self-regulation.
On Safer Internet Day 2018, the Commission launched the #SaferInternet4EU campaign, to promote online safety, media literacy and cyber-hygiene. In 2018-2019, the campaign reached nearly 60 million Europeans, providing them with around 2,800 new resources on subjects including fake news, cyberbullying, privacy concerns, grooming, sexting and cyber-hygiene.
On Safer Internet Day 2019, the Commission announced the creation of a new Safer Internet for Children Expert Group with representatives from all Member States, as well as Norway and Iceland. The group meets regularly to discuss and exchange experience and best practices, on aspects as diverse as online advertising aimed at children; and connected toys.
On Safer Internet Day 2020, the focus was on youth participation with the launch of the Youth Pledge, a co-creation project between Better Internet for Kids (BIK) Youth Ambassadors and members of the industry 'Alliance to better protect minors online' on making terms and conditions more child friendly.
On Safer Internet Day 2021, BIK Youth Ambassadors and members of the 'Alliance' presented the outcome of their year-long cooperation on the Youth Pledge. The Commission also hosted a discussion around recent EU legislative initiatives in digital, their impact on children and the role of various actors in implementing them.
Safer Internet Forum
The key annual international conference in Europe where policy makers, researchers, law enforcement bodies, youth, parents and carers, teachers, NGOs, industry representatives, experts and other relevant actors come together to discuss the latest trends, risks and solutions related to child online safety and making the internet a better place for minors.
In the new multiannual financial framework (2021-2027), the Commission will aim to:
Scale up awareness-raising efforts by creating more partnerships, fostering synergies, and spreading online safety messages more widely
Further improve the detection and removal of online child sexual abuse material, using AI
Support EU-wide qualitative and quantitative research on children's use of technologies, risk prevalence, and children's and carers' levels of knowledge and confidence on tackling these challenges
Measure the efficiency and impact of existing child online safety policies to ensure optimal future policy responses
Address emerging risks and challenges such as mental and physical health issues related to the use of technologies (self-harm, addiction, perception of self-identity and self-image)
Promote accessibility and inclusion to overcome the digital divide
Reach out to more stakeholders and especially promote greater youth participation to support fully informed policy-making
Make Europe fit for all in the digital age, including children. Initiatives include the new EU strategy for a more effective fight against child sexual abuse (2020), the proposed Digital Services Act (2020) and the comprehensive strategy on the Rights of the Child planned for 2021.
Ensure that the BIK strategy is up to date and responds to the digital transformation, reflecting shared European values.
Support Europe's recovery after the pandemic, especially through the Recovery and Resilience Facility by improving access to rapid broadband around Europe and adapting education systems to strengthen digital skills and media literacy to e.g. fight against disinformation.
The EU helps children and young people become responsible digital citizens by offering EU-wide tools and resources to minimise online risks and maximise the opportunities offered by the digital transformation.
Doing so is a long-term and multi-partnership endeavour, due to the highly dynamic nature of the digital landscape, and it requires sustained efforts over time to respond in the most appropriate ways to emerging trends and issues.
Because of the impact of the COVID-19 pandemic, it is estimated that the digital transformation has accelerated by 5 years or more. The European Commission will continue to work with industry, experts, civil society, decision-makers and young people to ensure a fair, inclusive and empowering Digital Europe.