During the past decade, the European cybersecurity landscape has evolved on the fragmented grounds of differing national priorities, and was lacking major projects possessing a technological and economical "lighthouse effect" for a long time. With the Horizon 2020 (H2020) programme, the EU has created opportunities for such strategic projects. One of the major interests of the European Union is to secure its digital economy, infrastructures, society and democracy.
CONCORDIA is one of four H2020 pilot projects that have been launched in order to support this aim. More specifically, CONCORDIA is a four-year, multi-disciplinary research and innovation project, launched in January 2019. The project is coordinated by the research institute Cyber Defence (CODE) from the Bundeswehr University Munich. 
Executive director of CODE, Prof. Gabi Dreo, highlights the CONCORDIA vision:
We seek to integrate cybersecurity competencies to enhance EU's digital sovereignty.
A prominent EU-wide consortium
In the field of cybersecurity, cooperation is key. We have formed a consortium of 46 partners from industry, academia, SMEs and most importantly national Cybersecurity Centres.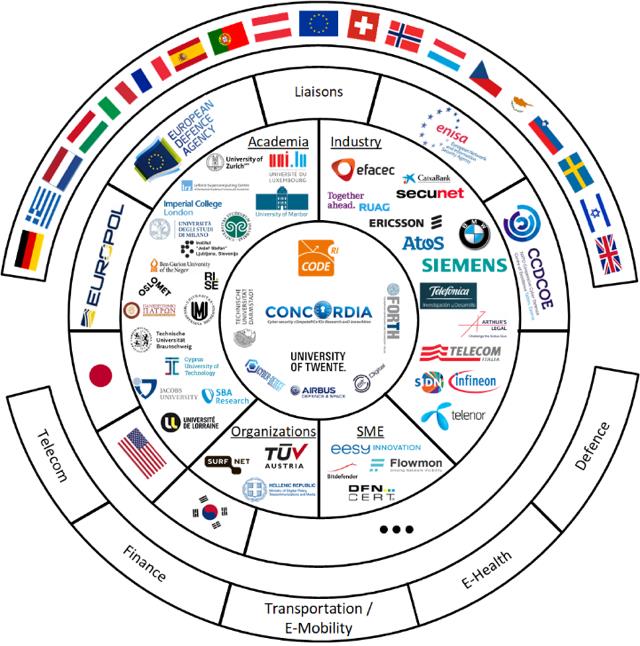 An ambitious and clear purpose
CONCORDIA aims to interconnect all of Europe's Cybersecurity capabilities. Just imagine how different Cybersecurity capabilities, skills and talents can be in academia, industry and public bodies. By interconnecting such capabilities, Europe will be able to create a vibrant and competitive Cybersecurity ecosystem. This may sound abstract, but the least it can achieve is to have a practical impact on innovation in research, education, policy, roadmaps and governance.
CONCORDIA will establish a pilot for a Cybersecurity Competence Network; such a  community of cybersecurity experts from various fields across Europe would be capable of strong collaboration using specific tools and platforms within their network. In addition, it will develop the EU Cybersecurity Research & Innovation (R&I) roadmap over regular public consultation fora to establish technology, socio-economic, legal and privacy directions for Europe.
The main objectives of the CONCORDIA project are to:
Position the CONCORDIA ecosystem, a Cybersecurity Competence Network with leading research, technology, industrial and public competences to build the European secure, resilient and trusted ecosystem, with the CODE research centre as coordinator and hub, and ENISA as secretary;
Use an open, agile and adaptive governance model and processes;
Devise a cybersecurity roadmap to identify powerful research paradigms, to do hands-on experimental validation, prototype and solution development in an agile way to quickly identify successful and unsuccessful potential product development;
Develop next-generation cybersecurity solutions by taking a holistic end-to-end data-driven approach;
Scale-up existing research and innovation with CONCORDIA's virtual lab and services;
Identify marketable solutions and grow pioneering techniques towards fully developing their transformative potential;
Develop sector-specific (vertical) and cross-sector (horizontal) industrial pilots with building incubators;
Launch open calls to allow entrepreneurs and individuals to stress their solutions with the development;
Mediate between multiple communities;
Establish an European education ecosystem for cybersecurity;
Provide expertise to European policy makers and industry.
Over the next four years, many interesting events will undoubtedly take place in the cybersecurity domain and within the CONCORDIA project. The pilot project team will regularly share their results to contribute to the European Digital Single Market Strategy and follow "green" open access in their publications.