"The daily life of people with chronic diseases and frailty conditions is difficult". A group of more than 100 researchers from 13 partners and 12 countries knows that very well. With the financial support of the EU, they invested around 9M€ over the past 3 years to deliver a solution that could change the life of people with Chronic Obstructive Pulmonary Disease (COPD), Mild Cognitive Impairment (MCI) and frailty conditions.
eWALL is a solution designed specifically for people with chronic diseases or frailty that brings back a normal and safe life at home. "It is simple to use and very effective", according to scientific coordinator Sofoklis Kyriazakos of Aalborg University.
Based on an integrated sensing infrastructure, eWALL connects houses into its cloud platform and transforms them into so called Home Caring Environments. Kyriazakos: "Users can enjoy an increased quality of life, without the feeling of being monitored or controlled, by using a variety of intelligent apps available through the eWALL cloud. At the same time, physicians, caregivers and relatives can be in contact with their people and contribute to their life comfort."
eWALL is leveraging future Internet technologies (cloud, IoT, BigData) to meet demanding user needs; among them to be easy, unobtrusive and of course effective. Based on an integrated sensing infrastructure, eWALL connects houses into its cloud platform and transforms them into Home Caring Environments.
12 Countries
The consortium behind eWALL counts 13 partners from 12 countries: Aalborg University, Hewlett Packard, Ericsson Tesla, Austrian Institute of Technology, San Raffaele, Roessingh Research and Development, Stelar Security Technology Law Research, Athens Information Technology, University Politehnica of Bucharest, Ss. Cyril and Methodius University, the University of Montenegro, Technical University of Sofia and the University of Zagreb.
The project successfully finished the 3rd and final year at the end of October 2016. During this last project year, eWALL has refined several aspects that have been discussed by the experts in Y2 and has given its focus on demonstration and exploitation activities.
"The demonstrations were very successful and create solid evidence on the impact of eWALL in the daily life of seniors with chronic diseases", says Kyriazakos.
"The project has also given significant efforts on exploitation activities, by taking the 'brave' decision to publish the software under open-source license and involve a Belgian SME (Innovation Sprint Sprl) to be the official exploitation company of the outcomes."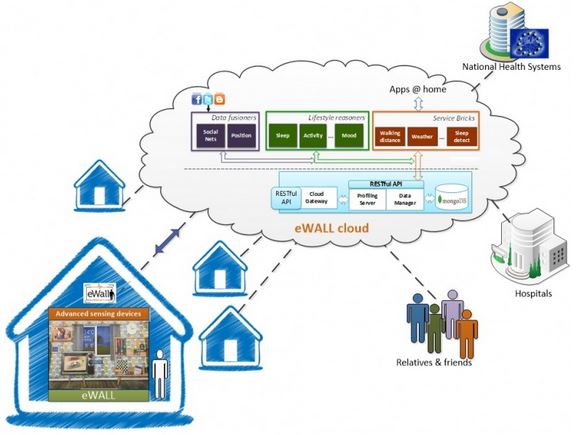 Downloads
Metadata
Related topics