A new project funded by the European Union will provide novel insights into designing new predictive tools in cardiac pathologies. It will accelerate the uptake of computer simulations for testing medicines and medical devices.
The search for new drugs and devices is particularly difficult in the case of cardiovascular disease, which remains the leading cause of death worldwide. Currently, 15 million people in Europe live with heart failure, and it is one of the few cardiovascular diseases whose prevalence continues to rise. Beyond the risk of death, heart failure has a significant and lasting impact on patients' health and well-being. Computer modelling and simulation can create scientific evidence based on controlled investigations including satisfying demands for safety, efficacy & improved access.
In-silico methods, together with high-performance computing infrastructures, the increasing availability of patient-specific data and big data analysis based on artificial intelligence, has the potential to bring clinical trials to the 21st century, leveraging standardised and trustworthy computational approaches. This is the objective of SimCardioTest.
SimCardioTest is an international consortium of 10 partners to design new predictive tools. The project, coordinated at Inria - the French national research institute for the digital sciences in Sophia Antipolis, France, kicked off on Monday 25 January 2021.
The SimCardioTest consortium partners are scientific institutions, and non-public partners from France, Belgium, Italy, Norway, Spain, and USA. The Advisory Board is composed of the European Agency for Medicine, Food and Drug Administration in USA, Roche, the University of Lyon, Dassault Systèmes and Auckland Bioengineering Institute in New Zealand.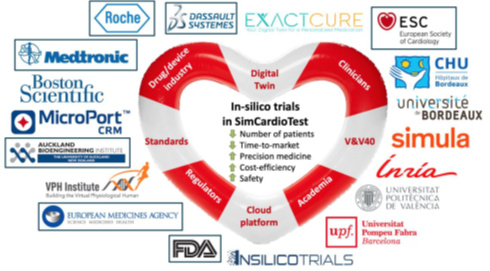 Metadata
Related topics