In 2017, the EU funded MAGIC pre-commercial procurement selected the MAGIC-GLASS project, led by the Italian start-up Tech4Care with the support of Ulster University in Northern Ireland and the company miThings in Sweden, for developing an innovative solution for stroke rehabilitation. The MAGIC-GLASS solution applied the consolidated mirror therapy approach in a Virtual Reality (VR) environment for providing patients with an improved rehabilitation experience. MAGIC-GLASS is an integrated system for upper limbs motor rehabilitation, designed for post-stroke treatment. It leverages gamified activities and immersive VR environments to maximize the patient's adherence and engagement. Using a portable hardware platform, the patient can perform rehabilitation comfortably at home by means of a set of adaptive serious games, with remote monitoring by clinical staff and further communication features. The clinical study showed the feasibility of integrating the solution into the current care pathways, to improve effectiveness of and adherence to the rehabilitation plan. The system and the method used by MAGIC-GLASS are unique and patented.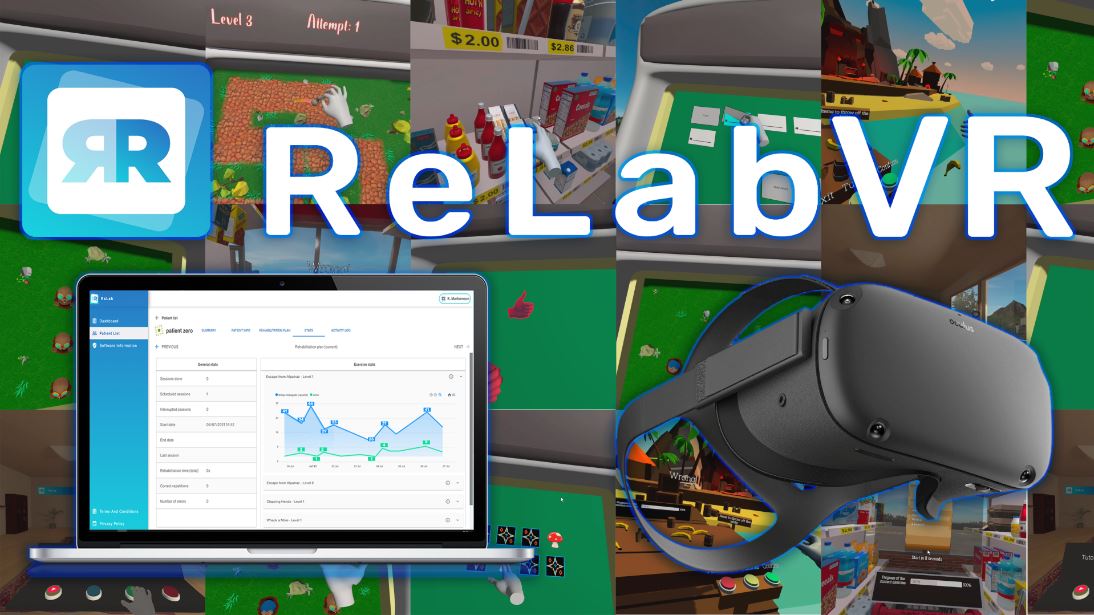 Through further investments, Tech4Care advanced the solution for exploiting the state-of-the-art technology in the VR sector, producing and marketing the ReLabVRTM system, which is now registered as a class I medical device. ReLabVRTM is based on a stand-alone VR headset, which makes it particularly compact, portable and easy to use. This enables patients and clinicians alike to make the best use of the embedded cutting-edge VR technology with small-to-zero efforts and with no tethers or boundaries. The included software has been designed to be accessible and effective for people with different cognitive and motor impairments. This enables ReLabVRTM to be the perfect rehabilitation companion in many scenarios: from the very first sessions at hospitals or rehabilitation centres (e.g. after an acute event) to the long-term home sessions for better or full recovery. Meanwhile, the MAGIC-GLASS solution has been sold to customers in Italy, Norway and India.
Our flagship project MAGIC-GLASS has been a game-changing opportunity, which enabled us to turn on the start-up engine, fine-tune our vision and business idea, and growth exponentially.
says Carlos Chiatti, Co-founder and Chairman of Tech4Care.
Since 2017, the startup won over 5-million Euros of product supply and R&D services contracts in the digital health sector. Its revenues have increased ten times and it has quadrupled its staff from 5 to 20 people. The company was also selected in 2017-2021 to participate in other European pre-commercial procurements: RELIEF on chronic pain management, ProEmpower on type 2 diabetes, Anti-Superbugs on detection of multi-drug resistant organisms, and HSMonitor on hypertension management. Tech4Care pursued a convergence of all developed mHealth and digital health technologies, individually and together with other industrial partners, towards the proprietary MainFrame platform. The latter constitutes the centerpoint of all the company's R&D efforts, since it is the system enabling the efficient, modular and flexible management of users and roles, as well as algorithms and digital products in the company portfolio. Among these, not only the above mentioned ReLabVRTM but also RED, the software solution for integrated management of residential care facilities and StudioMedico 3.0, the software used by the Italian GPs for client management.
Tech4Care's growth, robustness and innovation were awarded at national level and attracted the interest of investors, with ongoing offers under scrutiny. Since co-founders all come from healthcare and ageing research, they have long-established networks at national and European level among universities and stakeholders. This immaterial asset allowed the constant exploitation of research and industrial partnerships for advancing products and developing new digital health innovations. Established R&D partners and distribution channels are currently active throughout Europe – Italy, Spain, Portugal, Sweden, Norway – as well as in Turkey and India.