With 856 WiFi4EU vouchers in tow, Germany is among the countries that received the highest amount of grants from the European Commission-led initiative. Thanks to the EUR 15,000 vouchers, German municipalities have been able to install free Wi-Fi hotspots in public spaces and develop services to benefit locals and tourists alike. The WiFi4EU projects complements the country's digital strategy, which aims to improve quality of life, foster economic and environmental sustainability, and ensure social cohesion.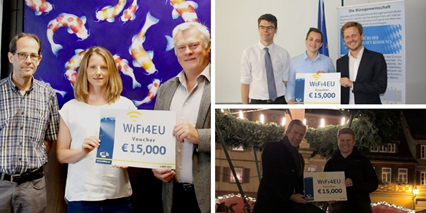 Germany's digital strategy was designed to cover five macro areas: digital skills, infrastructure and equipment, innovation and digital transformation, society in digital change and the modern state. Each of these fields of action include targeted measures to shape the digital transformation in the country and highlight the benefits of digitization for citizens. This forward-thinking strategy has also allowed Germany to be prepared for the COVID-19 outbreak: e-government services, digital platforms for businesses, digital infrastructure for distance learning, and free reliable Wi-Fi connectivity played a pivotal role during the lockdown. In line with the national strategy, WiFi4EU has allowed its beneficiaries to improve access to connectivity and expand their offer of digital services. For example, the municipality of Ladenburg has leveraged the WiFi4EU voucher to further develop the "Ladenburg Audioguide" app, which helps citizens and visitors to navigate life in the city. As Stefan Schmutz, Mayor of Ladenburg, explained, "if people need to book an appointment, they can choose date and time using our online service, thus avoiding the need to wait in line". The WiFi4EU initiative has been widely successful in Germany, where municipalities won the maximum amount of vouchers in all four calls and local representatives expressed the appreciation for the way the European Union is reaching out to European citizens through WiFi4EU: "The nice thing about it is that at the end of the installation you will connect to the same network all over Europe. Whether in Barcelona, Rome, Stockholm, or in Bad Dürrheim, you choose Wifi4EU and you can use the Internet for free!", said Jonathan Berggötz, Mayor of Bad Dürrheim, to Schwarzwälder Bote.
As Germany gains popularity as a holiday destination, the demand for free access to Wi-Fi and e-tourism services grows. Thanks to the WiFi4EU hotspots located across the country, tourists will be able to stay connected and enjoy what the country has to offer. From the toy-making industry in Sonneberg to the historic churches in Hildesheim, passing through Reichenau Island in Lake Constance, WiFi4EU will be every visitor's companion. Whether you find yourself enjoying the North Sea coast in Wilhelmshaven or exploring the rich history of Torgau, do not forget to connect to the WiFi4EU network while soaking up the breath-taking landscapes that make the country a must-visit.
Have a look at the map and the lists of German beneficiaries: Call 1, Call 2, Call 3, Call 4.