Home to spectacular architecture, countless thermal spas, delicious sweet wines and one of Europe's most exciting capitals, Hungary offers a wide range of activities for tourists and residents of all ages. To improve the tourist experience and capitalize on the country's unique attractiveness, municipalities have taken part in the European Commission funded WiFi4EU initiative, which promotes free access to Wi-Fi connectivity for citizens in public spaces.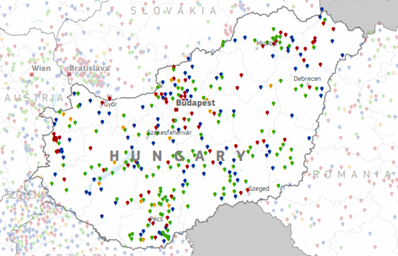 During the four WiFi4EU calls for applications, 325 Hungarian local authorities have been granted a EUR 15,000 voucher, taking significant steps towards the digital goals set out by the national strategy. Since 2017, the Hungarian government has developed specific plans to involve regional and local authorities in the promotion of the use of digital education, e-health, artificial intelligence, smart agriculture, and e-tourism with the aim of fast-tracking digitisation. Although Hungary has moved from 16th to 7th place on Connectivity ranking of DESI, other categories such as Digital public services, Integration of digital technology and Human capital show great opportunity for improvement. As proved by the success of the WiFi4EU initiative, mayors and local representatives have shown a deep understanding of the benefits offered by enhanced connectivity and digital services - especially in the tourism sector - and have taken action to make Hungary a digital leader. According to Mayor of Tiszaújváros, "WiFi4EU is extremely useful for people living here and tourists visiting us. The network is very popular among people, as it helps to manage their affairs online, to find out about the latest news. It fits well in our digital plans and the city application created by the municipality has now become more accessible to users". The newly-installed networks will also be an important resource for citizens of all income and age groups. As explained by the Mayor of Üllő, "WiFi4EU is a great project and opportunity for Üllő's citizens and tourists. Adults and teenagers can now enjoy the freedom to explore and surf the internet, or have a chat with friends and family members. It also provides a big help to those who can't afford internet access in their household".
From the eclectic capital city to the lakes and thermal baths in the countryside, the WIFi4EU network is now available to locals and travellers in many public spaces around the country, and more hotspots are being installed every day. In Budapest, city-dwellers can enjoy free connectivity by the Danube while sipping on a traditional glass of pálinka, and in Balatonberény, families can access the network by the largest freshwater lake in Central Europe. Free Wi-Fi is also available in Bugyi, where nature loves meet to observe the rich bird and game life, and in Baja, famous for its numerous museums and cultural centres. For tourist passionate about Hungarian food and wine, the network is connecting Villány, the municipality that gives name to the renowned red wine. According to the Mayor of Villány, "the WiFi4EU network installed in the town was an important digital development. Villány - as one of the "capitals of Hungarian wine" – is a very popular touristic destination in Hungary and we are sure that WiFi4EU constitutes an important element in the improvement of our digital infrastructure".