Ireland has been awarded 114 WiFi4EU vouchers. Learn more about how the national government and local authorities have partnered up with the European Commission to ensure connectivity for all.
Packed with spectacular landscapes, welcoming people, world-renowned literature, and a good dose of humour, Ireland is the perfect destination for visitors in search of memorable adventures. To open up new ways to enjoy the Irish cultural heritage and make tourism more accessible, the country has involved authorities at all levels in the digital transformation process. In the last two years, the European Commission, the national government and the county councils have come together to install WiFi4EU hotspots and ensure access to connectivity for all.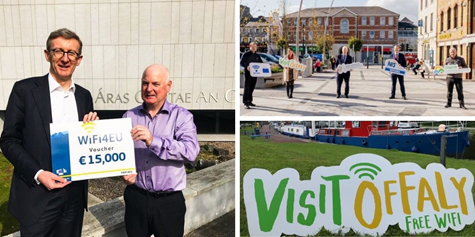 In the Digital Economy and Society Index (DESI) 2020, Ireland ranks 6th out of 28 EU Member States, highlighting its commitment to digitisation. Initiatives such as the National Broadband Plan (NBP), which aims at guaranteeing that all citizens and businesses have access to a reliable broadband network, have made Ireland the fastest growing Member State in the EU. While developing national and local strategies, the Irish government has also shown its continuous support for WiFi4EU, which promotes free access to Wi-Fi connectivity for citizens in public spaces throughout Europe. The Department of Rural and Community Development (DRCD) has been a great promoter of the WiFi4EU project and has decided to match the funding provided by the European Commission, thereby doubling the value of the EUR 15,000 voucher granted to Irish WiFi4EU beneficiaries. The matching funding has allowed county councils to install a larger number of hotspots and broaden the project's impact in terms of connectivity and opportunities for the population. According to the Broadband Officer of Offaly County Council, "connectivity is key in this era of digitalisation and the introduction of [WiFi4EU] will strengthen Offaly's reputation as a forward thinking and digitally inclusive urban and rural landscape, which strongly promotes access to on-line services and information across the County".
In the Republic of Ireland, local government functions are mostly exercised by counties, which include several historical baronies and villages. As these entities cover vast territories, each county was divided into four areas for the purpose of the initiative, for a total of 124 eligible beneficiaries. Each county could then win a maximum of four WiFi4EU vouchers and thus more effectively install free Wi-Fi in key public spaces. During the four calls for application, Ireland secured 114 WiFi4EU vouchers, becoming one of the highest-ranking participating countries in terms of coverage. WiFi4EU hotspots are even reaching the world-famous Cliffs of Moher in Clare County, where the network will enable to gain deeper insight into tourists' footfall and habits, allowing data-driven improvement to provide a service tailored around tourists' needs while fully respecting personal data. "The deployment of Wi-Fi in […] tourist centres is seen as a critical element to our tourism strategy", revealed the Broadband Officer of Clare County Council.
From Wild Atlantic Way to the Sunny South East, residents and tourists are now able to share the beauty of Ireland with family and friends thanks to the free WiFi4EU connectivity available throughout the country and beyond. As explained by the representatives of Offaly County, "the fact that there are many locations and venues across Europe that have been able to take advantage of this project […] further assists us in Offaly in understanding that we are all elements of the wide EU family".
Metadata
Related topics