Gem of the Algarve coastline, Albufeira is a vibrant municipality located in the district of Faro, in the southernmost part of Portugal. The municipality is known for its breath-taking beaches, wonderful climate and bustling atmosphere. With a brand-new EUR 15,000 WiFi4EU voucher from the European Commission in tow, the municipality has its eyes set on delivering high-speed connectivity to tourists and citizens all year round.
Alfubeira is among the 254 Portuguese municipalities that secured a grant during the three calls of the WiFi4EU initiative, which has been very successful in Portugal. More than 82% of the eligible municipalities in Portugal have won a WiFi4EU voucher! The WiFi4EU team spoke with João Pexirra, responsible for the implementation of the network in the municipality, to know more about Albufeira's plans to upgrade citizens' access to public free Wi-Fi connectivity and boost tourism in the area.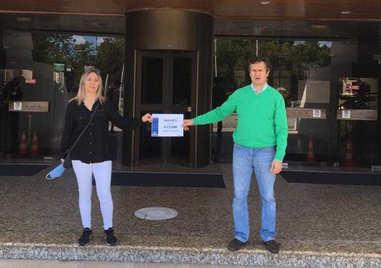 The Local Council of Albufeira decided to apply for a WiFi4EU voucher to improve connectivity in the most popular public spaces and tourist areas. The municipality has been working closely with the selected installation company to identify those areas and develop a comprehensive plan for the deployment of 14 WiFi4EU hotspots. The citizens have reacted positively to the news and have provided constructive feedback, showing appreciation for the creation of high-speed free internet hotspots.
The municipality plans to take advantage of the initiative to improve the quality of life for citizens and equip public buildings, such as the library and the sports centre, with high-speed connectivity. In addition, WiFi4EU hotspots will play a key role in attracting visitors to the stunning Old Town of the coastal village. Recognizing the growing influence of the availability of free public connectivity in the tourism sector, the WIFi4EU network will allow tourists to access information and take advantage of the public services available. As João Pexirra explained, "All programs are designed to improve communication [for citizens and tourists]".
Proud to be part of the WiFi4EU Community, Digital Officer João Pexirra is keen to encourage other municipalities in Portugal and across Europe to apply for WiFi4EU voucher in the fourth and last call.