Just a stone's throw away from Reykjavík, the municipality of Akranes is an Icelandic gem nestled between the fjords of Hvalfjörður and Borgarfjörður. The port town features a sandy beach, a spectacular view of the Atlantic Ocean, and the most picturesque lighthouses in the country. The WiFi4EU team spoke with Mayor Sævar Frey Þráinsson to know more about his plans to bring connectivity to Akranes' main attractions and promote digital tourism.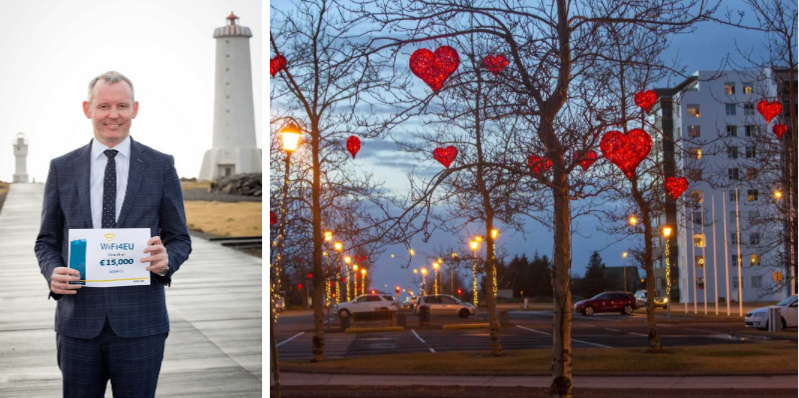 Mayor Sævar Frey Þráinsson
Akranes is the proud winner of a WiFi4EU voucher, which was awarded to the municipality in November 2018. The voucher, worth EUR 15,000, is to be used to install Wi-Fi equipment in public spaces that are not already equipped with a free Wi-Fi hotspot. In the Icelandic municipality, the European Commission funded network was inaugurated on 15 August 2020, but proper launch celebrations were not possible due to COVID-19 restrictions. Nevertheless, residents showed enthusiasm for the WiFi4EU network covering indoor and outdoor spaces across the municipality area. When picking the location of the hotspots, the Local Council focused on the needs of residents and visitors alike: "The spots are all public and cover our main tourist attractions, museums and sport facilities", explained Mayor Þráinsson. Thanks to WiFi4EU, the Akranes Folk Museum, the cultural hub of the municipality is now equipped with free public connectivity.
The WiFi4EU initiative is a perfect complement to Akranes' digital plan, which put emphasis on the accessibility of digital services. The Local Council, in fact, has been working on the development of tools that can be easily accessed through the WiFi4EU network. As explained by the Mayor, "the municipality is working on increased e-services. Improved access to free internet will make our services more accessible for our residents and guests, so WiFi4EU fits well into our plan". Free access to internet is also playing a significant role in the modernisation of the tourism sector. Not only is WiFi4EU allowing visitors to use social media and share their experience in Akranes without worrying about roaming fees, but the free network is also opening up opportunities for the creation of services such as virtual guided tours.