Nestled around the homonymous lake, Lapinjärvi is a quaint Finnish town in the southern region of Uusimaa. The municipality prides itself on its people-oriented policies and has been a pioneer in the use of digital technologies for the wellbeing of all age groups. Thanks to the WiFi4EU initiative, Lapinjärvi's Local Council has been able to equip public spaces with free Wi-Fi and to develop digital services aimed at involving children and the elderly in the digital transformation.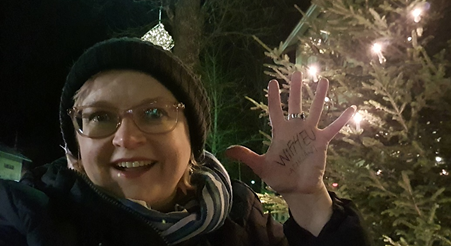 Photo caption: Mayor Tiina Heikka in front of Lapinjärvi's Christmas tree
In Finland, 53 municipalities have been granted a EUR 15,000 WiFi4EU voucher to be used to install free hotspots in parks, town halls, libraries, schools, hospitals, and points of interests. The WiFi4EU team spoke with Tiina Heikka, Mayor of Lapinjärvi, to learn more about how WiFi4EU has allowed Finnish beneficiaries to benefit from the digital services developed by the Government and create more tools, contributing to the country's pledge to well-being. "WiFi4EU has a really big impact in our plan to develop an accessible municipality and town centre", commented Mayor Heikka.
The WiFi4EU network in Lapinjärvi was launched in January 2020 and it comprises 14 hotspots distributed across the municipality area. The network comes as a complement to the existing infrastructure, which covered some parts of the town but could not fully satisfy the connectivity needs of the locals. According to Mayor Heikka, "WiFi4EU has been really beneficial to our small municipality. With the help of WiFi4EU we have had the opportunity to offer free Wi-Fi to everyone in our municipality´s centre, for example in our well-being park".
The newly installed public Wi-Fi is an integral part of the digitalisation plan developed by the Local Council of Lapinjärvi. The strategy includes increased services for all age groups. Senior citizens can benefit from connectivity in nursing homes, where they can video-call their relatives and benefit from online exercises to keep their memory sharp. On the other hand, hotspots in schools and libraries are allowing children to get acquainted with digital tools more effectively. "The aim of digitalisation is to secure public services and good opportunities for participation for all, also for children and the elderly", explained the Mayor.
Proud to be a part of the WiFi4EU Community, residents have welcomed the news of the European Commission funded with enthusiasm and "have been satisfied and amazed to have free Wi-Fi in the center", concluded Mayor Heikka. "This is a concrete signal of the support from the EU, which can be seen in the daily lives of locals".
Downloads