With the support of the Brandenburg Association of Towns and Municipalities, Schorfheide (Germany) officially launched its WiFi4EU network on 20 January 2022. The preparation and implementation of the installation took about five months. The WiFi4EU hotspots now cover large parts of the centre in the Finowfurt district, providing free internet access to residents and tourists alike. Following the digital spirit of the initiative, the completion of the WiFi4EU network in Schorfheide was announced on the municipality's website and on their dedicated Facebook page, as well as in regional newspapers.
Digitalisation is one of the most urgent priorities for the municipalities, according to the Mayor of Schorfheide, Wilhelm Westerkamp. It is essential to ensure that useful and high-quality administrative services can be provided to all citizens across the town's territory. Thanks to its new WiFi4EU network, Schorfheide plans to introduce a number of e-services to improve the efficiency of its public administration.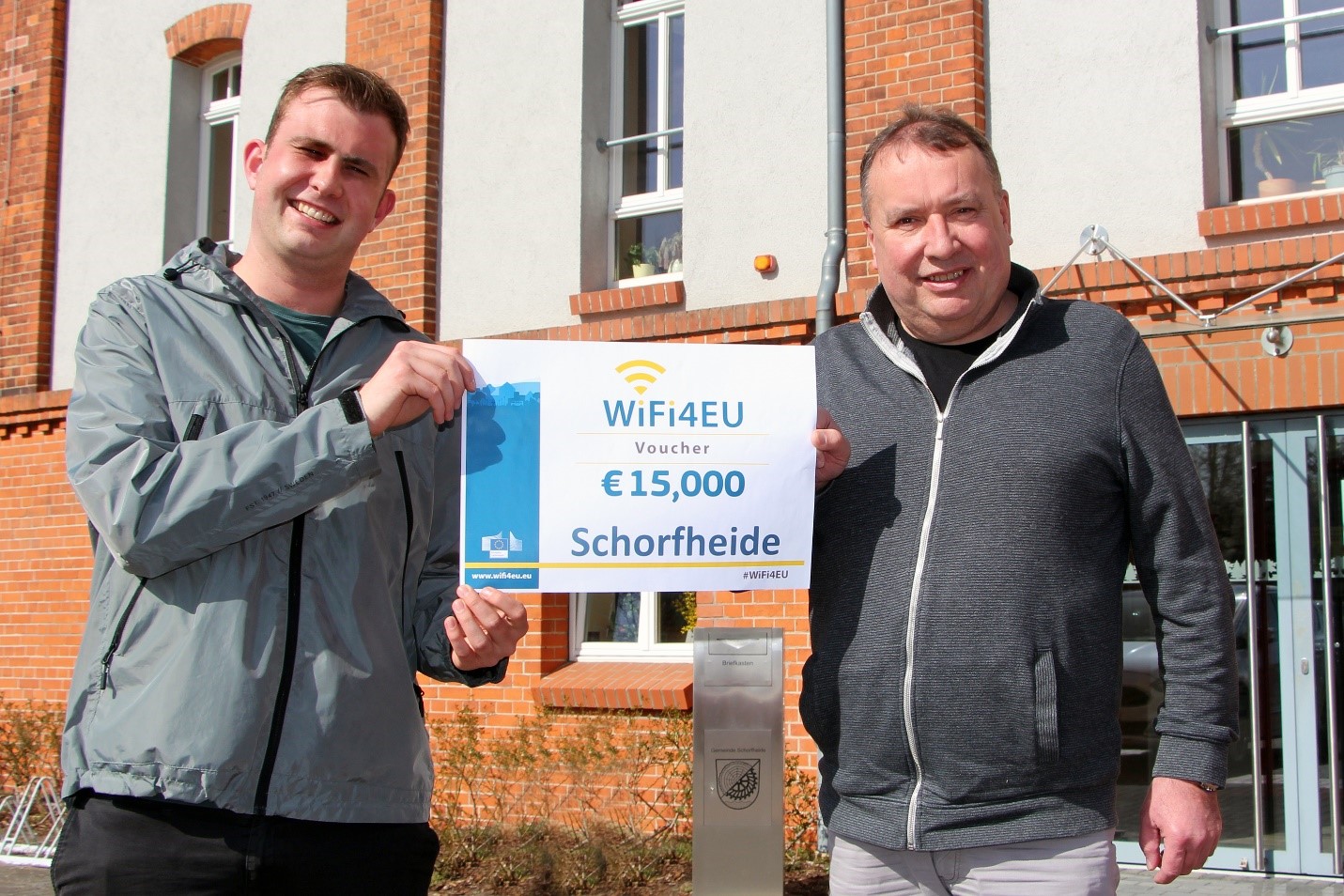 From left to right: Maximilian Schlörb (Digitalization Manager) and Wilhelm Westerkamp (Mayor of Schorfheide)
The path towards a succesful digital transformation is, however, not always an easy one. In an interview with our team, the Mayor of Schorfheide revealed some of the challenges faced throughout the implementation process, especially as a result of understaffing. Despite the obstacles, "we never thought about giving up," he clarified. Contrarily, the commune recruited a digital Ombudsman to make sure the project was duly followed and supported.
After succesfully taking part in the WiFi4EU initiative, Mr. Westerkampf and his team would strongly recommend other authorities to join the list of 6.000+ municipalities that have installed their public WiFi4EU networks. Not only does the initiative help increase the attractiveness of a small town, the mayor remarked, the WiFi4EU branding, if applied uniformly across the board, can also acquire an important recognizable value that will create trust among users.
The mayor concluded by saying that the WiFi4EU project demonstrates that the EU is supporting modernization, irrespective of the size and position of the town concerned. For him, concrete projects like this one help strengthen not only the importance of digital transformation, but also the significance of doing this together, at EU level.