The Declaration
Research and innovation covering Al and the socio-economic, agronomic, and environmental aspects of digitising agriculture
Adoption and deployment,supporting the CAP'S transition towards a result- based policy and to build a strong smart agri-food sector
Pooling and sharing of agricultural data between farmers and throughout the food chain
2 years later...
Examples of actions taken at European level
Research and Innovation
HE Cluster 6: R&l as enabler in agriculture, forestry, rural development
HE partnership on "agriculture and data"
Service delivery, quality of life, business opportunities, innovation capacities in rural areas
Al-powered precision farming solutions
Priority to solutions for family farm models
Innovation Infrastructure
H2020: loT (European large-scale pilots)
DIGITAL: Al Testing and Experimentation Facilities, Digital Innovation Hubs
Up-skilling of farmers and rural populations
EIP-AGRI (area of digital innovation), Smart Villages
Pooling and sharing agricultural data
DIGITAL: Common European Agricultural Data Space
Identify and open up high- value datasets for common databases
Full use of space programmes and the European Earth Observation Programme
Member states are quite active as well
The Member States are also taking actions to achieve a sustainable digital transformation in agriculture. Many of initiatives that have been taken are not necessarily directly related to the declaration of cooperation, but are heading in the same direction. The digital transformation of the agricultural sector will play a key role in achieving the objectives set out in the European Green Deal. The examples in the graphic identify some of these initiatives, but there are actually many more.
In December 2020, a conference on the "Digital Transformation of the Agricultural Value Chain" was organised under the German Council Presidency, demonstrating the commitment of the Member States to this subject.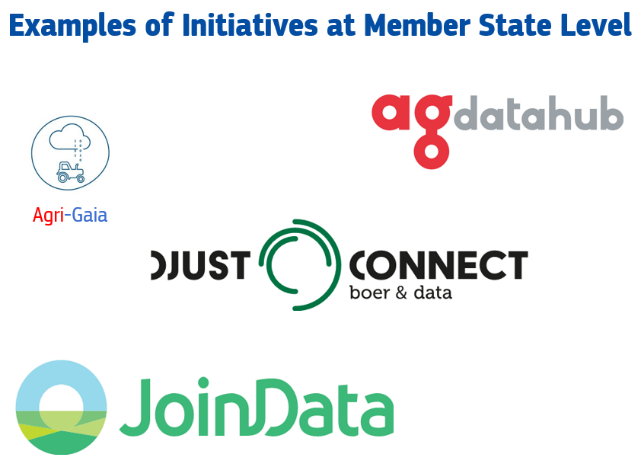 Related Content
Big Picture
The future of farming is here
The future of farming relies on research, innovation and capacity building in the agri-food sector funded through multi-financial framework initiatives.