The Public consultation on the evaluation and revision of the .eu top-level domain regulations ran from 12 May 2017 to 4 August 2017.
Objectives of the consultation
The .eu top-level domain (TLD) was established by Regulation EC 733/2002 and is governed by the implementing rules of Regulation EC 874/2004. This consultation is part of the Regulatory Fitness and Performance Programme (REFIT) review of the .eu TLD regulations. It sought to gather input for the evaluation, assessing the .eu regulations against the evaluation criteria of effectiveness, efficiency, coherence, relevance and EU added value. It further aimed to collect input on issues that may need to be reviewed within the current .eu legal framework through eventual legislative and/or non-legislative initiatives.
Who replied to the consultation?
Forty-four contributions were received by the closing date: 43 through the online questionnaire and 1 written contribution.
Twenty-five responses came from citizens/private individuals residing in 12 EU Members States. Most of them were between 25 and 65 years old (19 out of 25).
Ten responses came from business representatives, one from an industry association and one from public sector. The companies/organisations that participated are active in 9 Member States.
Overall, contributions came from respondents in 17 Member States and one from a citizen residing outside the EU (indicated as 'other').
Table 1:  Type of respondents - absolute numbers
Citizens/Private individuals
25
Business representatives
15
Association
1
Public
1
Other
1
Total
43
Table 2:  Respondents - Age distribution 'Citizens/Private individuals' - absolute numbers
Age < 25
3
25 < Age < 65
19
65 < Age
3
Total
25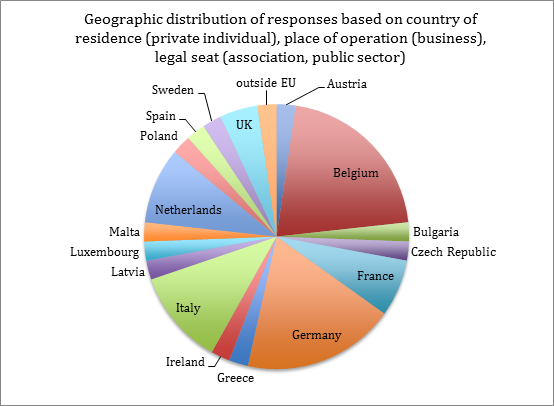 Figure 1:  Provenance of survey responses - geographic distribution
Business sectors
The fifteen business representatives mainly work for companies providing IT-services (10 out of 15). There was one submission from the energy sector and one respondent indicated they work for a research, scientific or education institution. Three responded 'other' but clarified to be active for a company providing advice or consultancy services.
Eightrespondents provide domain name registration services; two as a registry, four  as a registrar, and two combine both registry and registrar functions.
Domain names
A majority of the respondents have one or more domain names.  26 out of 43 indicated to have a .eu domain name; 28 said to have a domain name, other than a .eu domain name. In general, those that have a .eu domain name are actively using it (21 out of 26), while four answered 'it is just registered' and one (1) said to have 'cancelled the domain name
Figure 2: use of .eu domain by respondents that hold a .eu name (%, tot #respondents 26)
The survey collected opinions on whether the .eu legal framework still serves its purpose and how it could be improved. Below is a general summary for the different sections of the questionnaire.
Overall Functioning of the current regulatory framework
38 out of 43 (88%) considered the current objectives of the .eu regulatory framework to be still relevant. 14 respondents (33%) indicated that the objectives of the .eu TLD should be complemented.
Effectiveness of the regulatory framework for .eu
26 out of 43 (60%) answered that as a consumer they would rather buy from a .eu website compared to a website with a generic extension; and 30 (70%) indicated that a .eu extension affects how much they trust a website.
From the 11 businesses that use a .eu name, 6 (55%) said that .eu significantly or moderately helped to expand cross border, while 3 (27%) said that there was little or no effect.  
Efficiency of the regulatory framework for .eu
When asked to compare the overall cost to hold a .eu name with the results achieved, 19 out of 43 (44%) respondents gave a clear positive assessment while two (2) respondents indicated that costs exceed the benefits.
A few respondents made suggestions to simplify (7 responses) the regulatory framework or change/eliminate (10 responses) certain areas. A large majority answered 'No' or 'Do not know' on these questions (84% and 77 % respectively).
Coherence of the regulatory framework for .eu
The majority of respondents answered that the .eu regulatory framework is significantly or moderately coherent (28 out of 43, 65%) with the EU priority for completing the European Digital Single Market.
.eu domain name eligibility criteria
31 out of 43 (72%) indicated that they would 'strongly disagree' with opening up registrations for a .eu domain name to anyone, regardless of residency or nationality criteria.
.eu domain name registry
30 out of 43 (70%) strongly agreed that the .eu TLD should continue to be operated by a non-for profit organisation/association. 24 (56%) expressed a preference - agreed (9) or strongly agreed (15) – for a .eu regulatory framework that sets policies and procedures to be followed by the operator.
Respondents were asked to assess different governance frameworks to determine the detailed policies and procedures to be followed by the .eu registry, and favoured a framework in which published policies and procedures are developed by the .eu registry operator through a multistakeholder process and approved by the European Commission.
Internet Governance wider ecosystem
Most respondents (30 out of 43, 70%) agreed that the surplus generated by the fee associated to the .eu domain should be used for supporting EU priorities in Internet Governance and EU Internet Governance related projects.
Opinions were mixed on whether the .eu registry should play a role within the Internet Governance ecosystem, beyond the operation of the .eu domain name (Yes 30%; No 30%; Do not know 40%).
Next steps
The findings of the consultation will feed into the ongoing .eu REFIT review of the regulatory framework for the .eu top-level domain. This summary report will be followed by an in depth synopsis report. The synopsis report will be published on the European Commission website in due course.
Written contributions
One written contribution was received from a software company. It is a position paper focusing on the deployment of Domain Name System Security Extensions (DNSSEC) by registries and registrars in Europe.
Read more on the background of this public consultation