The smart use of data can have a transformative effect on all sectors of the economy and can create new opportunities for economic growth, including for small and medium-sized enterprises. From medical care to environment, optimal use of data can also help us address many societal challenges.
In our increasingly digital world, more and more data is generated. To leverage the potential of data, the Commission published a data strategy in February 2020, a key pillar of the EU's digital strategy.
A data-powered European economy that drives innovation
Data is the lifeblood of the economy and a driver of innovation. As well as its potential for economic growth and to address societal challenges, data is the basis for developing Artificial Intelligence applications, which require the processing of vast amounts of high-quality data.
For example, big data analyses can help our scientists develop better medical diagnostics tools and more precise models to predict climate change and natural disasters.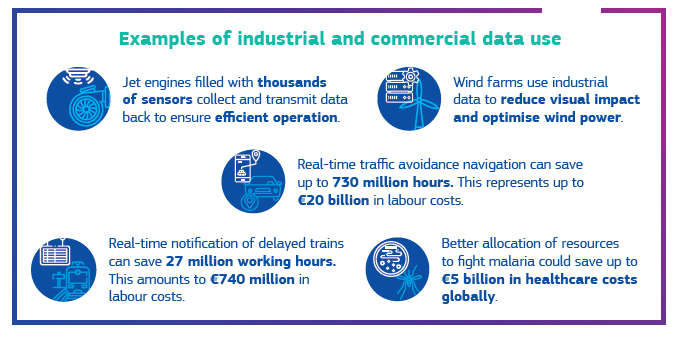 The economic impact of data is huge. Most economic activities will depend on data within a few years.
The value of the data economy of EU27 was almost €325 billion in 2019, representing 2.6 % of GDP. The same estimate predicts that it will increase to over €550 billion by 2025, representing 4 % of the overall EU GDP (Source: Final Study Report: The European Data Market Monitoring Tool). In this future scenario, Europe makes progress in the investment and deployment of independent data infrastructures and digital resources, also leveraging the new Horizon Europe and Digital Europe Programmes. This means Europe reaches a high level of technological sovereignty.
The European strategy for data
The European strategy for data aims to create a single market for data that will support both Europe's global competitiveness and its data sovereignty.
To further ensure the EU's leadership in the global data economy, the data strategy focuses on:
proposing the right regulatory framework regarding data governance, access and reuse. This includes incentives for data sharing, with clear rules on data access and use which comply with the EU personal data protection, consumer protection and competition rules;
supporting the development of technological systems and next-generation infrastructure to enable the EU and all actors to grasp the opportunities of the data economy;
further narrowing the digital skills gap among Europeans, and exploring how to give citizens better control over who can access their data;
fostering the rollout of common European data spaces in strategic sectors and domains of public interest.
Common European data spaces
Common European data spaces will allow data from across the EU, both from the public sector and businesses, to be exchanged in a trustworthy manner and at a lower cost, thereby boosting the development of new data-driven products and services. Data spaces are composed of both the secure technological infrastructure and the governance mechanisms.
In the Commission's data strategy, 9 such data spaces were proposed, ranging from industry to energy, and from health to the European Green Deal. They will, for example, contribute to the green transition by improving the management of energy consumption, make delivery of personalised medicine a reality, and facilitate access to public services.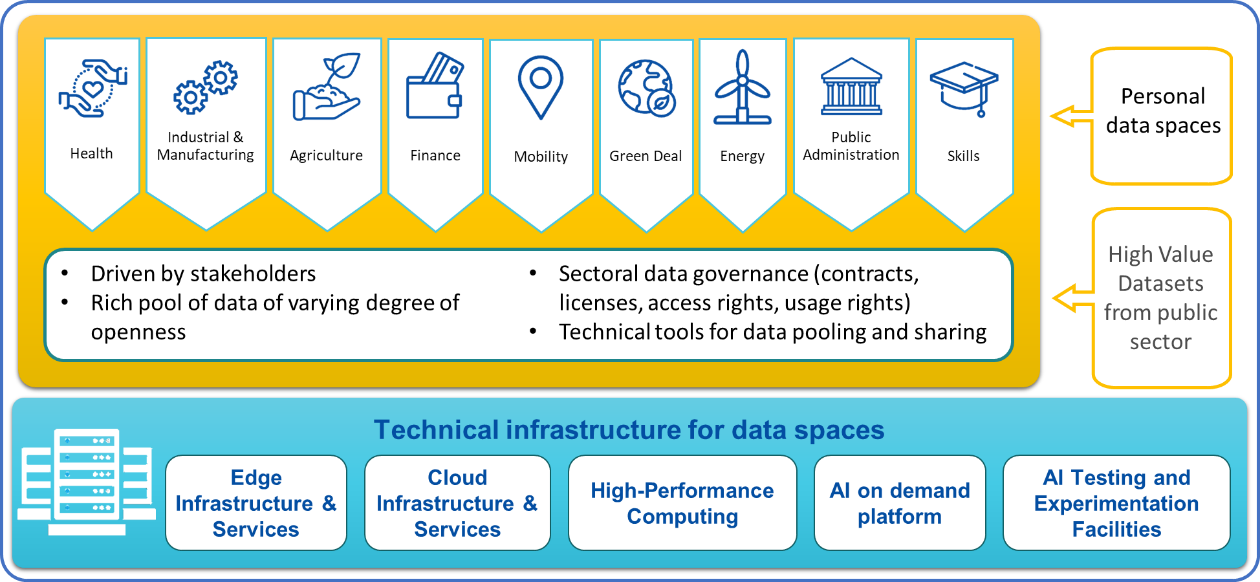 Data sharing — more growth, more efficiencies, and more innovative solutions
Ever-increasing amounts of data are generated by public bodies, businesses and citizens. Such data can be re-used and underpin or improve different products or services.
The Commission supports data sharing through legislation and through practical measures. An example is the Support Centre for Data Sharing. This is an online service that offers guidance for businesses interested in data sharing, including assistance on practical, technical and legal aspects of data sharing as well as model contract clauses and best practice examples.
Regulation on European data governance (Data Governance Act)
A key pillar of the data strategy, the proposed Regulation on data governance (adopted by the Commission on 25 November 2020) will boost data sharing across sectors and Member States. This new way of data governance will increase trust in data sharing, strengthen mechanisms to increase data availability and overcome technical obstacles to the reuse of data.
How will this work in practice? 
The EU will boost the development of trustworthy data-sharing systems through four broad sets of measures:
Mechanisms to facilitate the reuse of certain public sector data that cannot be made available as open data. For example, the reuse of health data could advance research to find cures for rare or chronic diseases.
Measures to ensure that data intermediaries will function as trustworthy organisers of data sharing or pooling within the common European data spaces.
Measures to make it easier for citizens and businesses to make their data available for the benefit of society.
Measures to facilitate data sharing, in particular to make it possible for data to be used across sectors and borders, and to enable the right data to be found for the right purpose. 
Impact across the EU
The Regulation on data governance will be a powerful engine for innovation and new jobs.
Businesses will benefit from a reduction in costs for acquiring, integrating and processing data, and from lower barriers to enter markets. This will enable small and large firms alike to develop new data-driven products and services.
Towards a Data Act
The Commission intends to propose a Data Act in 2021. This will address issues that affect relations between different actors in the data economy. The objective is to create a fair data economy, in which European companies and citizens have more control over their data, and governments can make better use of big data held by the private sector for the benefit of society.
Private sector data for the benefit of society
Data held by companies can be relevant to guide policy decisions or improve public services. For example, it can lead to more targeted responses to epidemics and better urban planning, as well as better environmental protection, market monitoring and consumer protection.
In 2018, the Commission appointed a group of independent experts to assess the aforementioned principles and provide guidance for potential future initiatives in this area. The group's report contains a set of recommendations that will contribute to shaping the policy on this topic.
One example of business-to-government data sharing is the Exscalate4COV initiative. In the Exscalate4COV initiative, an ad hoc consortium of 18 partner organisations tested available molecules with drug-like properties in order to identify new treatments for COVID-19. They identified Raloxifene as a promising molecule to treat the virus. This was only possible because pharmaceutical companies 'donated' information on molecules to European research centres.
What has the EU done to encourage more data flows between businesses in Europe? 
The European Commission has put a focus on data resulting from objects connected to the Internet of Things (IoT), such as smart home appliances and factory robots connected to the internet. In 2018, it published principles that should guide companies in their contractual practices relating to access and use of such data. These principles also address data sharing from businesses to governments.
Reuse of publicly funded data — Powering the economy and innovation
Public sector bodies in the European Union, such as government agencies, local authorities, or statistical offices, produce and collect huge quantities of data. Examples of public sector data include:
geospatial information;
statistics;
weather data;
digitised books from libraries.
Allowing public sector data to be easily re-used for other purposes, including commercial ones, can stimulate economic growth and help address societal challenges. Public sector is a valuable resource for SMEs and startups to create new products and services.
For example, Slovenian company Synergise has developed a service providing easy access to quadrillions of bits of information coming from Copernicus, USGS and other satellites, making it a useful resource for end-users and application developers around the world.
What has the EU done to support the wider re-use of public data?
The Open Data Directive stimulates cross-border reuse of public sector data for the benefit of the European economy and society. This Directive addresses the remaining and emerging barriers to the wide re-use of publicly funded information across the European Union and brings the legislative framework up to date with the advances in digital technologies. Once implemented by Member States, the Directive will increase the amount of public sector data available for re-use. Most public sector data will be free or available at a low cost.
In the course of 2021, an implementing act based on the Open Data Directive will lay down a list of specific public sector data from six thematic domains: geospatial, earth observation and environment, meteorological, statistical, companies and company ownership, and mobility. Such data, called 'high-value datasets' will be made available free of charge, in machine-readable formats and via APIs, greatly increasing their actual re-use and leading to significant socioeconomic benefits.
The European Union also funds the European Data Portal – a pan-European multilingual discovery platform for public sector information open for re-use. This portal also offers a training centre on how to re-use open data and a database of success stories from European and international re-users.
Research data
Research data resulting from public funding is covered by a dedicated policy, called Open Access. Under this policy, researchers, businesses and citizens benefit from free-of-charge online access to publicly funded research results, covering scientific publications and research data. The Open Data Directive provides for a right to reuse research data, including for commercial purposes. Also, the Directive requires Member States to have clear Open Access policies in place for research they fund. The EU has published guidance to Member States in a 2018 Commission Recommendation on access to and preservation of scientific information. This Recommendation is based on the premise that scientific information resulting from public funding should be accessible and reusable with as few restrictions as possible, while taking into account concerns relating to intellectual property rights, personal data protection and confidentiality, security and legitimate commercial interests. This shall support EU Member States developing national Open Access policies converging around a European model.
Examples of EU-funded projects using data for innovation
Transforming Transport (€14.6 million of EU funding) harnessed big data to initiate a digital transformation in the transport and logistics sector, e.g. smart highways and airports, integrated urban mobility, proactive rail infrastructures, sustainable connected vehicles, and ports as intelligent logistics hubs.
BigMediLytics (€15 million of EU funding) uses state-of-the-art big data technologies to achieve breakthrough productivity in the healthcare sector by reducing cost, improving patient outcomes and delivering better access to healthcare facilities simultaneously.
Investments in data innovation and deployment
Europe should offer an environment that supports data-driven innovation and stimulates demand for products and services that rely on data as an important factor of production.
The Commission will use its convening power as well as EU funding programmes to strengthen Europe's technological sovereignty for the data-agile economy.
In particular, in the period 2021-2027, the Commission will invest in common European data spaces through the Digital Europe Programme (DEP) and through the Connecting Europe Facility 2 (CEF2) programme.  It plans to invest €2 billion to foster the development of data processing infrastructures, tools, architectures and mechanisms for data sharing and to federate energy-efficient and trustworthy cloud infrastructures and related services.
Additional resources from the Horizon Europe programme will support research and innovation in new technologies underpinning the data economy.