WHO BENEFITS?
Everyone! WiFi4EU gives free internet access to local residents and visitors throughout the entire EU in the main centres of community life (parks, squares, libraries, public buildings, hospitals,etc.), powering also digital services (eHealt, eTourism, eLearning and eGovernment).
HOW DOES IT WORK?
The WiFi4EU initiative provides municipalities with the opportunity to apply for vouchers. 
Installations should not duplicate  existing free private or public Wi-Fi access.
Municipalities are free to select the Wi-Fi installation company of their choice.
Municipalities need to ensure that the internet access is guaranteed for at least 3years.
Municipalities must display the WiFi4EU visual identity in the  designated public spaces: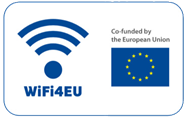 WiFi4EU ACROSS EUROPE
Municipalities from all participating countries have been awarded WiFi4EU vouchers. In Bulgaria, Croatia, Greece, Ireland, Portugal and Slovenia, more than 80% of the eligible municipalities have received the European Commission grant to install their WiFi4EU networks.