The CEBF will invest in underserved areas where there are strong opportunities for profitability. Eligible countries are EU Member States, as well as Norway and Iceland.
The main eligibility criteria for projects can be summarized as follows:
Eligible projects (whether fixed line or mobile) should make a significant contribution to the achievement of the targets of the Digital Agenda for Europe (DAE), which means, at the minimum, the support to the connectivity necessary to achieve the DAE Target 2 (30 Mbps) and/or Target 3 (100 Mpbs). Furthermore, in case of fixed line networks, minimum speed levels in line with DAE target 3 (100 Mbps) should be permanently available for at least one or several retail products out of the operator's commercial product offerings. A priority should be given to projects that facilitate the transition towards a European Gigabit Society by the deployment of networks upgradable to 1 Gigabit as well as to projects based on wholesale-only models.
The Company will only invest in what is referred to as "greenfield" projects. These projects are defined as investments carried out by "start-up" companies or companies that have an asset base which is small compared to the cumulative investments planned for new assets.
Eligible projects will deploy "state of the art technology" which means a technology, or a mix of technologies, whose performance features are comparable to the best-performing commercially available technologies.
The projects will be deployed predominantly inunderserved areas, which would be typically classified as grey NGA (i.e. only one NGA network exists or is planned) and white NGA areas (no NGA network exists), for state aid purposes.
An investment by the Fund will not exceed€30 million for one project.
Visit the CUBE Infrastructure Managers website for more information.
This video is part of a series on broadband roll-out in Europe produced for the European Network of Broadband Competence Offices (BCO Network). Fabrice de Seze of CUBE Infrastructure Managers, who manage the fund, describes the funding instruments it can provide, the ticket size per investment, and the types of projects that are eligible for funding through CEBF.
Find out more about: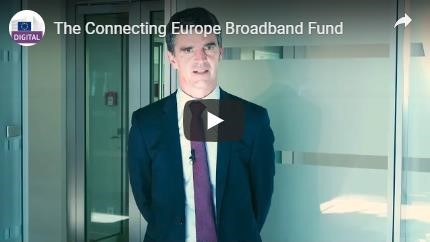 Downloads
The Connecting Europe Broadband Fund
Download