Many use cases have demonstrated that using innovative digital solutions can help control cattle mineral intake, increase milk production and enable the early detection of diseases in livestock. By relying on crop sensors and ear tags, farmers can increase production while reducing their environmental impact. 
Many of the digital solutions piloted in these projects are already available on the market, used today in real-life applications.
Developing digital farming platforms, agricultural machine builders, and smart water management systems has demonstrated the strong role emerging digital solutions can play in supporting farmers in the field. Under the Horizon 2020 programme, approximately €1 billion of EU funding was made available for efforts research and innovation under the European Commission's initiative for Digitising European Industry (DEI).
Major investments have been set out in establishing large-scale pilots (LSPs) in order to provide answers to societal challenges in several areas. These include building agricultural digital platforms and supporting digital innovations in the agricultural sector.
€80 million for research and innovation into deployment of digital technologies for the agricultural sector
Three LSPs and one network of digital innovation hubs (DIHs) in particular have received a total of €80 million for research and innovation into deployment of digital technologies for the agricultural sector: IoF2020, DEMETER, ATLAS and SmartAgriHubs.
Internet of Food and Farm 2020 (IoF2020)
Internet of Food & Farm 2020 (IoF2020) was launched in January 2017 and received an investment of approximately €30 million. It focused on facilitating the uptake of the Internet of Things (IoT) in food and farming by bringing together two ecosystems: agri-business and advanced ICT suppliers. Both these ecosystems have helped in boosting digital innovation in agriculture.
IoF2020 is a farmer-centric project and driven by 33 uses cases across 22 EU member states, covering 5 different agricultural trial sectors: arable, dairy, fruit, vegetable and meat. 
: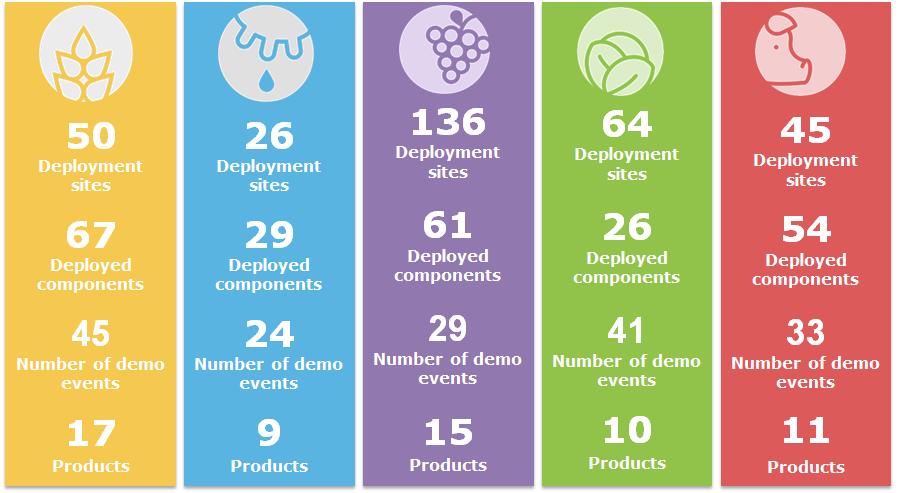 Two open calls were launched by the project. The first focused on increasing the coverage of use cases all over Europe. The second concentrated on improving applications and introducing new technologies to the sector. Both calls stimulated the ecosystem and validated the re-usability of various components between use cases in the same sub-sectors.
IoF2020 currently uses its various use cases to work on systems, using apps that had been developed during previous phases. Installing wireless sensors in crops and attaching smart ear tags to individual cows can allow farmers to produce more food with less of an environmental impact. Controlling the herd's mineral intake can also reduce the amount of ammonia and phosphate shed in their manure, affecting the quality of the water running in the fields.
One specific IoF2020 case that uses agricultural machine builders made excellent progress on the standards and interoperability of their equipment, seeing a 10% decrease in fuel consumption and a 10% increase in soil fertility as a result.
One of IoF2020's trial farms used software developed by Connecterra and saw an increase in milk yield, and reduction in calving intervals and antibiotic treatment days by over 60%. Early disease detection makes a huge difference by allowing the farmer to start treatment a couple of days earlier.
In a use case, milk yield in herds wearing smart ear tags and feeders increased by 1%, and milk quality improved by 20%. The number of diseased animals decreased by 6% compared to untagged cattle, and the number of cows culled due to health concerns was 24% lower than usual.
Connecterra closed a €7.8 million funding round, allowing it to pursue its mission of making agriculture more productive, humane and sustainable.
Visit the website of the IoF2020 project
Agricultural Interoperability and Analysis System (ATLAS)
ATLAS (agricultural interoperability & analysis system) has been developing an open digital service platform for agricultural applications since its initial launch in October 2019. It is also building a sustainable ecosystem for innovative data-driven agriculture.
The platform enables the flexible combination of agricultural machinery, sensor systems and data analysis tools to overcome the lack of interoperability. This allows farmers to increase their productivity in a sustainable way. The ATLAS platform is built around a data exchange network using a uniform application programme interface.
: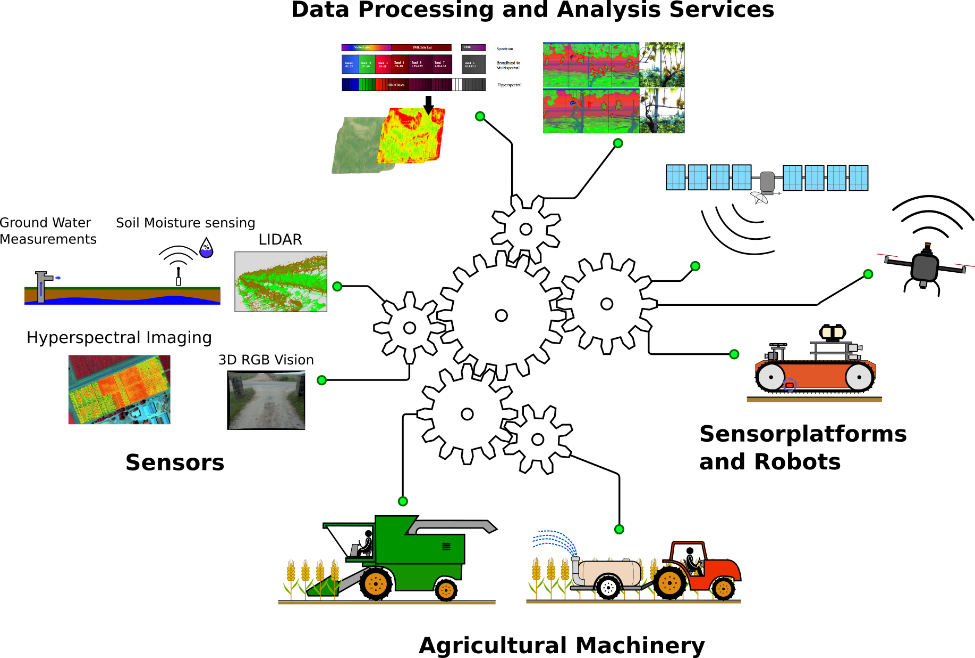 ATLAS has 13 commercial and research farms in 6 European countries. It plans to carry out numerous pilot studies where a network of end-users, service providers, researchers and policymakers will be set up in order to promote the benefits of new technologies in the agricultural sector. Innovative companies will be attracted through seed funding to provide their services through the platform. The project will work on defining next-generation standards for data-driven agriculture with the knowledge assembled from these studies.
Visit the website of the Atlas project
DEMETER
Similar to the IoF2020 model, DEMETER consists of a large-scale deployment of interoperable smart farming platforms, delivered through 20 pilots across 18 different countries.
DEMETER was launched in September 2019 and is made up of 60 partners across the value chain. It has 25 deployment sites, 6000 farmers and over 38 000 devices and sensors, with participants from the 5 aforementioned trial sectors, production systems and different farm types and sizes.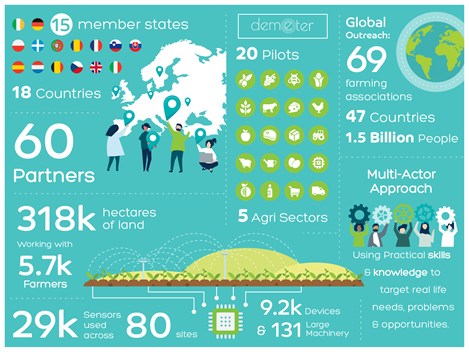 With an EU investment of €15 million, DEMETER aims to demonstrate the potential of advanced standards-based interoperability for IoT in agriculture, ensuring security, privacy and business confidentiality across the value chain. The project shows how an integrated approach to business modelling and user acceptance can support sustainable farming and food production systems, provide people with safe food and support farmers in their decision-making process.
DEMETER will bring new business opportunities to the agri-food economy while safeguarding Europe's natural resources. The project's goal is to create a secure and sustainable IoT and business ecosystem with an impact that could transform the European food and agriculture sector, and potentially across the world.
Visit the website of the Demeter project
SmartAgriHubs
 The SmartAgriHubs network was established in November 2018 and received €20 million of EU funding. It consists of 2000 competence centres and 28 flagship experiments that demonstrate innovations in agriculture. Its work is facilitated by 140 DIHs from 9 regional clusters that span across all Member States.
The key to knowledge sharing in SmartAgriHubs is to leverage, strengthen and connect all of the different parts. The project is currently working on developing the current ecosystem by building a network of DIHs, integrating technology and business support in a one-stop-shop approach that involves all relevant players in Europe.
One of the SmartAgriHubs experiments in France – autonomous greenhouses – has successfully addressed labour shortages on the farm by using robotics, precision farming and online matchmaking services during the Covid-19 pandemic, guaranteeing citizens access to fresh food despite the difficult circumstances.
Visit the website of the SmartAgriHubs project
Smart Water Management Platform (SWAMP)
Water is vital for ensuring food security to the world's population, and agriculture is by far the largest consumer. SWAMP (Smart Water Management Platform), which boosts EU international cooperation, received around €1.5 million for the development of IoT-based methods to manage water in precision irrigation. It was piloted in Brazil as well as in Italy and Spain.
Technologies have been created to address water wastage in agriculture by sensing the level of water needed by the plantation and measuring its flow whenever needed. The technologies use IoT, data analytics and autonomous devices to reduce leakage and productivity losses.
One case example carried out by SWAMP includes variable rate irrigation in Brazilian soybean farming, expected to provide a reduction from 20-60% in water and energy consumption. It does so  while maintaining or improving the overall production in the region of Matopiba.
Visit the website of the SWAMP project
Other projects supporting the digitisation of agriculture
Outside of the DEI programme, an investment of €12 million was put into precision farming projects PANTHEON (precision farming of hazelnut orchards), ROMI (robotics for microfarms) and BACCHUS (mobile robotic platforms for active inspection and harvesting in agricultural areas).
A further €12 million was spent on DataBio (data-driven bio economy), a BigData LSP platform in agriculture, forestry and fishery, complementing the Commission's efforts to digitise the agricultural sector. The EU's goal is to support Europe's farmers by funding research and innovation projects and to promote user-friendly platforms, enhancing sustainability, performance and competitiveness in agriculture.
A major outcome of the work carried out by the LSPs was the creation of an IoT Catalogue, a guide that fosters the reusability across trials. The catalogue was initiated by the WaziUp project and further scaled up by IoF2020. It lists all the methods deployed during the different agricultural use cases, currently being utilised in healthcare applications.
Some of the use cases are expanding and going to full operational deployment. One example is the IoF2020 dairy farming use case known as Happy Cow, where investment has been raised. Big data analysis with machine learning technologies will be operationally deployed to help farmers better understand the needs of their animals and take preventive measures in case of potential issues.
Latest News
Related Content
Big Picture