To support a successful digital transformation of the energy system, Europe needs state-of-the-art digital solutions, a reliable smart grid infrastructure and a data ecosystem, governed by the principles of interoperability, openness, and data sovereignty.
The EU aims to reduce net greenhouse gas emissions by at least 55% before 2030, compared to the levels in 1990. Achieving these reductions in the next decade is crucial to Europe becoming the world's first climate-neutral continent by 2050, fulfil the European Green Deal, meet the commitments of the Paris Agreement, and lead the fight against the impacts of global warming. This will all be achieved through the greater use of renewable energy sources and increased energy efficiency.
The energy system will therefore have to continue its profound transformation, which requires among others to bridge the energy and the digital economy. Today's energy system is still heavily reliant on fossil fuels. By 2050, the share of electricity in final energy demand will rise to 53%, with over 80% of electricity from renewable sources. Moreover, the traditional consumer landscape will change into an electricity system that includes ever-increasing distributed generation and storage.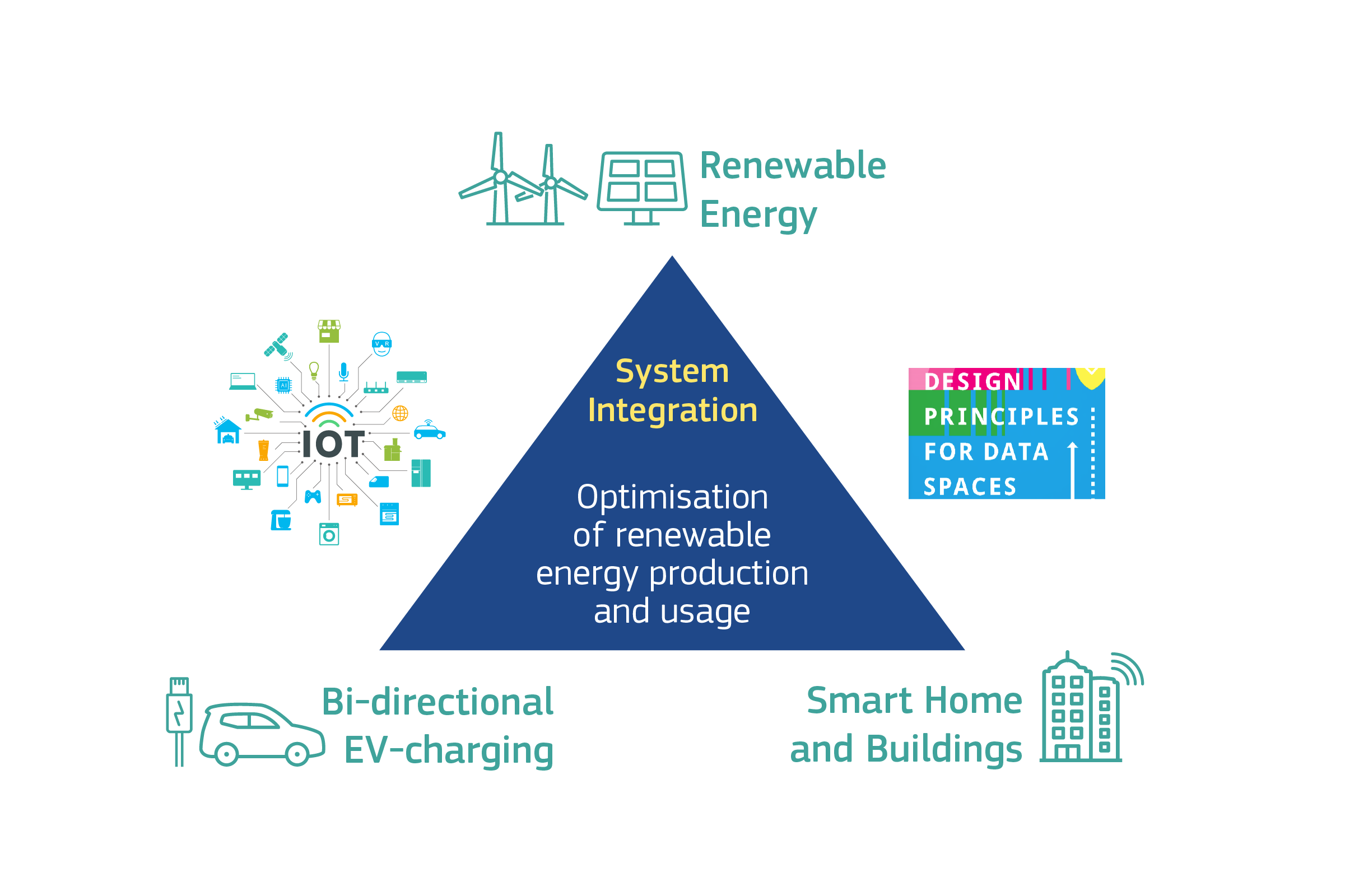 Figure 1: A simplified use case for system integration: electric vehicles and smart buildings connected to the electricity grid. © European Commission, hakule - iStock GettyImages Plus (IoT), Open DEI (Design Principles for Data Spaces)
Digitalisation and energy
An IoT-supported smart energy system can bring significant energy efficiency benefits for consumers by providing the appropriate tools for understanding and better managing their energy consumption or production and storage, in times of increasing shares of renewables, decentralised generation and new loads such as electric vehicles. In addition, the use of the Internet of Things (IoT) in smart grids can play a significant role in improving operations, management and integration for fuel cell technologies used for energy harvesting in buildings.
Digitalisation is also changing markets, businesses, and employment; new business models are emerging whilst some century-old models might be on their way out. On the other hand, it raises new security and privacy concerns for companies and individuals, which need appropriate consideration.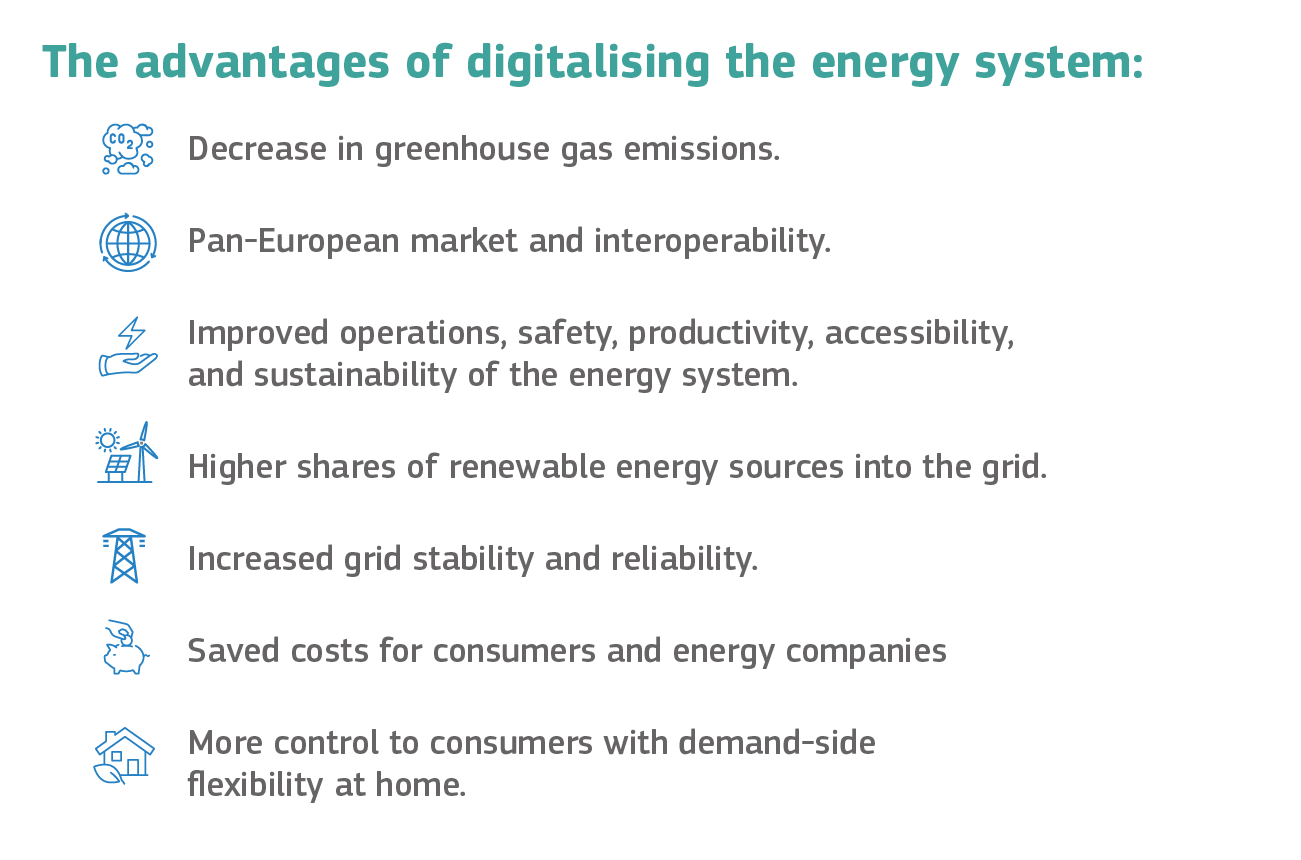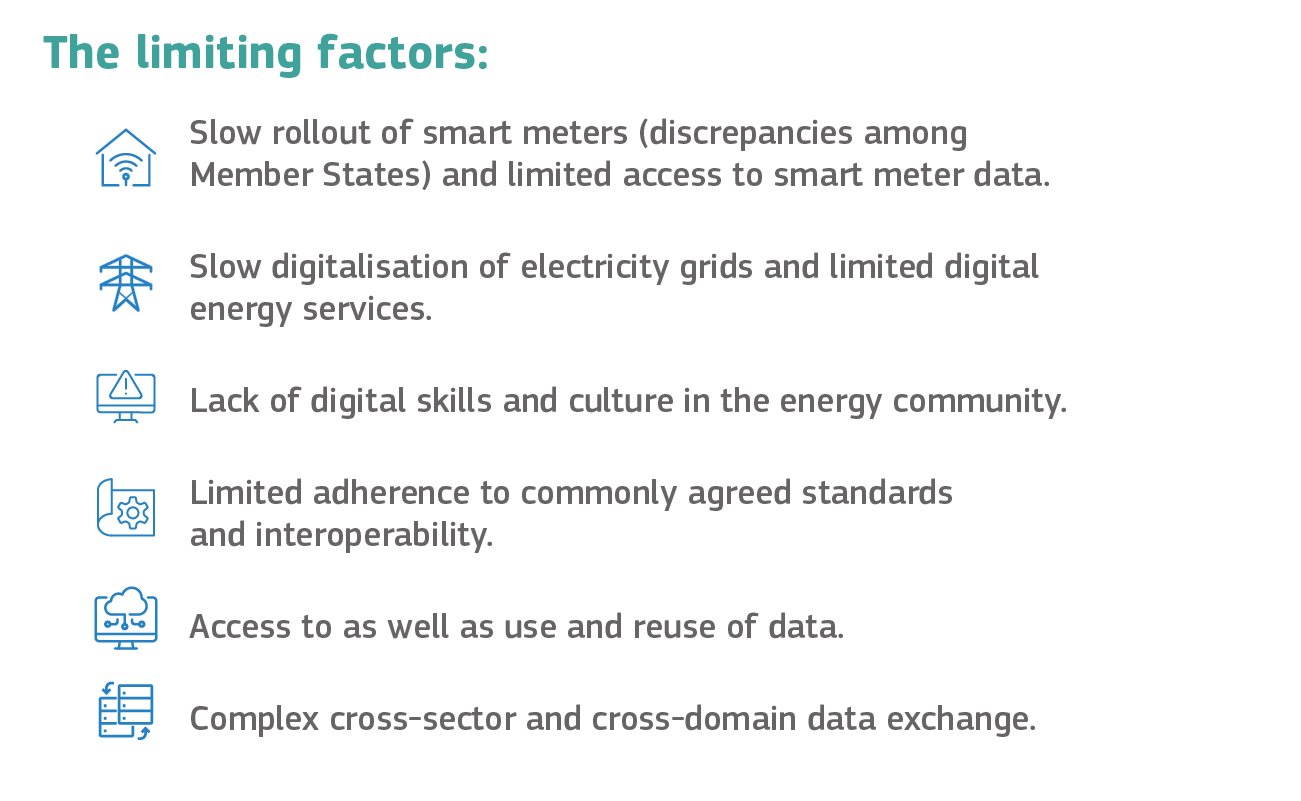 To reach these ambitious objectives, the European Commission has updated its climate and energy policy framework in the fit-for-55 climate package. This package contains policy measures to reach the EU's targets, including the revision of the Energy Efficiency and Renewable Energy Directives. The Commission has also proposed a Path to the Digital Decade, a concrete plan to achieve the digital transformation of our society and economy by the year 2030.
Finally, over the last months, the Commission reflected and gathered experts' advice on a Digitalisation of Energy Action Plan, as one of the key actions to accelerate the implementation of digital solutions in energy, for a better-functioning, smart, integrated and interconnected energy system. The plan will also support the implementation of REPowerEU, the joint action for affordable, secure and sustainable energy.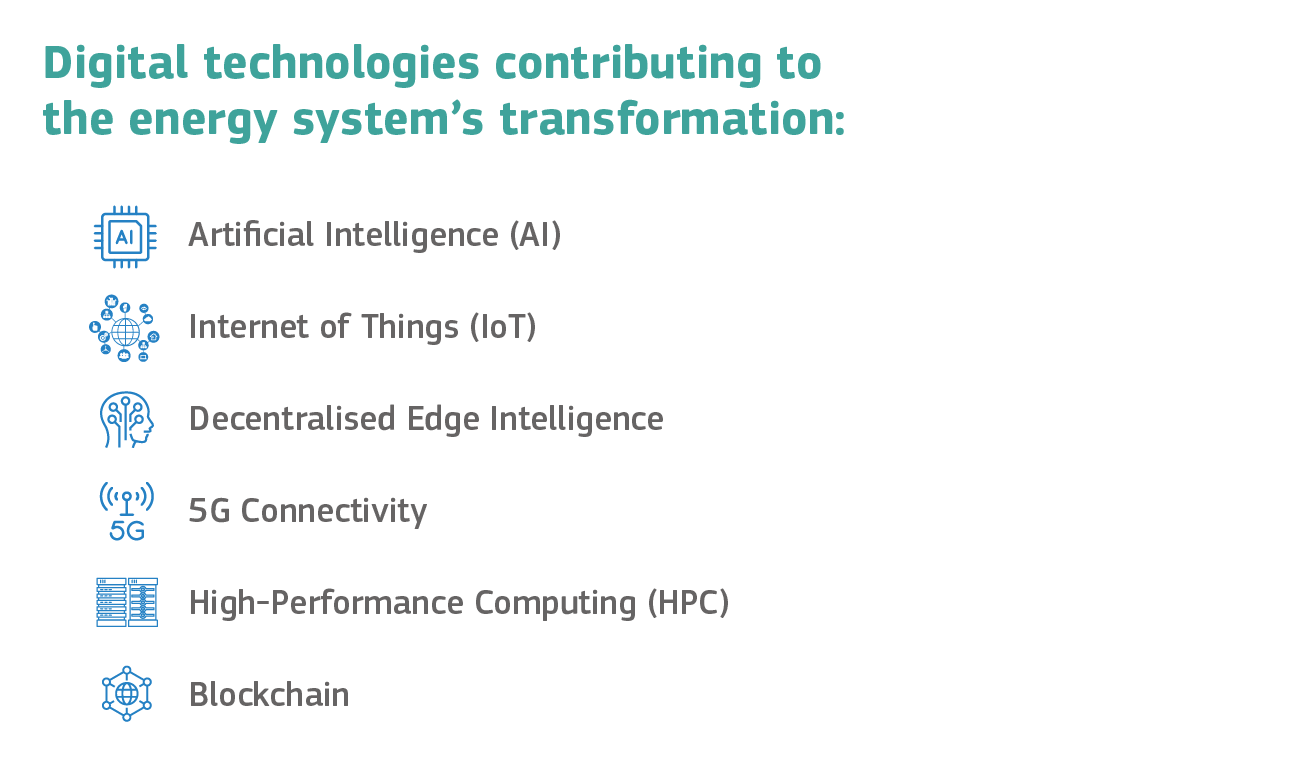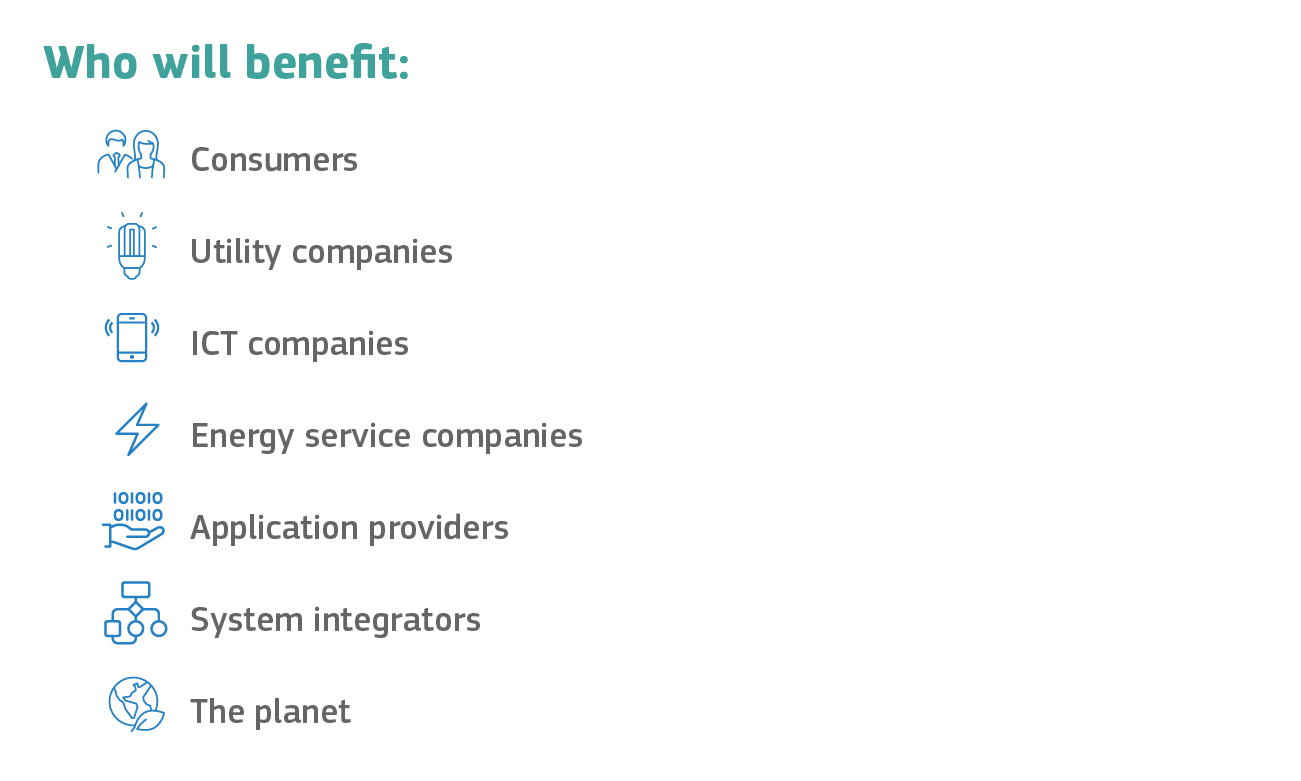 All of these will pave the way for the ongoing twin digital and green transformation of the energy system to benefit from advanced digital solutions with a lower environmental footprint and higher energy and material efficiency, leading to a more resilient, efficient, and greener energy system.
Figure 2: the Directorate-General for Communications Networks, Content and Technology (DG CONNECT) support actions for the digitalisation of the energy system. © European Commission
Cooperation is key for Europe's success
In order to achieve true excellence in the digitalisation of energy, cooperation is paramount. Public administrations need to work together, for instance through national or regional industries for energy in terms of digitisation and digital infrastructures. Through excellent, effective and close cooperation between the European Commission's Directorate-General for Communications Networks, Content & Technology (DG CONNECT) and Directorate-General for Energy (DG ENER), the EU is showing an example to other relevant stakeholders from both the public and private sectors and civil society, in areas such as legislation, standardisation and interoperability, cybersecurity, sustainable ICT, R&I and deployment.
Latest News
Related Content
Big Picture