The digital transformation of mobility presents exciting opportunities for Europe. The EU is helping the transport sector to increase its use of new technologies in order to become cleaner, safer and more effective.
How is digitalisation impacting mobility?
Major progress in digital technologies such as artificial intelligence (AI), the Internet of Things (IoT), cloud and edge computing or 5G networks are leading the digital transformation of the mobility sector.
Autonomous vehicles are on the rise, allowing new transport solutions like robotic taxis, connected lorries or driverless delivery systems.
New mobility services enabled by digital platforms are changing how we move, from shared mobility (such as ride hailing and bike sharing) to Mobility as a Service, which gives access to multiple transport modes on a single application. Freight transport relies more on greater synchronisation across modes.
The data generated and exchanged by vehicles is exploding. Autonomous vehicles could produce around 4 terabytes of data per day (Intel). Vehicles are increasingly connected to their physical and digital environment.
New habits and behaviours caused by digitalisation, such as the rapid development of e-commerce of working remotely, are transforming mobility patterns.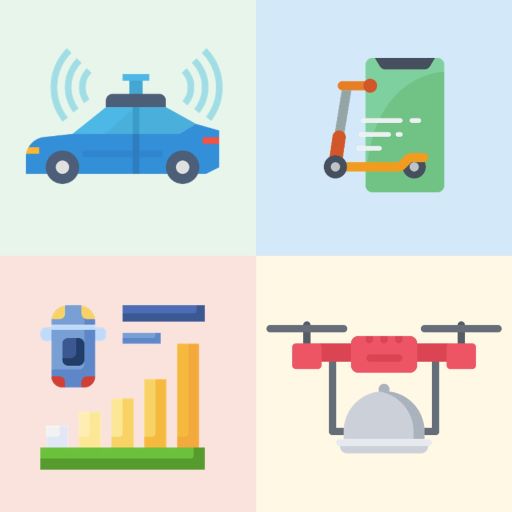 What are the benefits and challenges ahead?
Benefits:
Connected and Automated Mobility (CAM) can make roads, railways and waterways safer. By optimising the use of vehicles and infrastructures, it can enhance efficiency, reduce congestion and help to lower gas emissions. CAM can also create business opportunities and increase competitiveness, and will make transport more accessible to the elderly or people with disabilities, transforming travel in the years to come.
Mobility as a Service (MaaS), by allowing seamless multimodal travel and facilitating access to greener alternatives, can help to decarbonise transportation. Leveraging the complementarity between different transport modes would allow more efficient use of resources and save time and costs for passengers and transporters.
Pooling and exchanging mobility data can improve the synchronisation between different transport modes and infrastructures. Accessing large pools of data would fuel the development of AI-driven applications. Better access to mobility data will help public authorities monitor transport activities and their impacts, and plan transport infrastructure and services. Access to mobility data can create new sources of value: car sensor data, for instance, can be highly valuable for insurance, navigation, or road maintenance companies.
Supporting the transition to zero-emission mobility. AI can improve the energy efficiency of electric or hydrogen vehicles and optimise the deployment of charging infrastructures. Bi-directional electric vehicle charging could provide flexibility to the grid, making it possible to optimise energy usage and production while better integrating renewable energies. Such sector coupling requires digital enablers and real-time data sharing.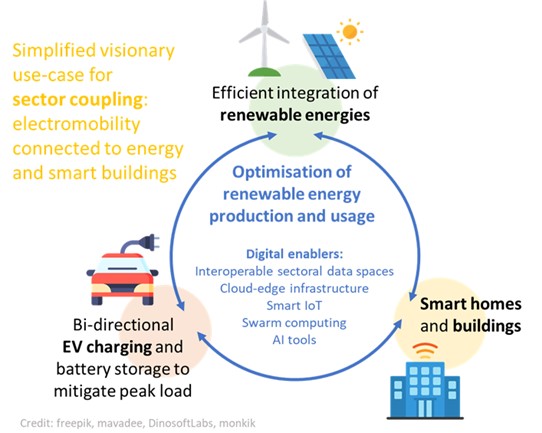 Challenges:
Addressing technological challenges: CAM and smart transport systems require huge investments to develop and deploy new technologies and infrastructures. We will need a cloud-edge computing continuum to process vast amounts of data in real time, 5G connectivity to ensure rapid and reliable data transfer, AI to analyse complex information, chips for smart vehicles, and new kinds of automotive operating systems. The EU remains highly dependent on other regions for some technologies like AI, cloud, or semiconductors.
Uniting in diversity: the European mobility ecosystem is composed of a multitude of actors with different specialisations and sizes. This diversity is a strength but can also lead to fragmentation. To seize the benefits of digitalisation, mobility and transport, stakeholders will need to build partnerships, pool investments, and agree on common standards, infrastructures, platforms, and governance frameworks, in order reach critical mass and avoid dependence on large dominant actors.
Ensuring security and privacy: the digitalisation and automation of transport raises challenges in terms of personal data protection, cybersecurity, and user acceptance. Cyber-attacks could affect the functioning of services, cause damage to systems, data thefts and even injuries.
Managing social impacts: the social acceptance of self-driving mobility will be key for its deployment. This transition will require new skills and could lead to the disappearance of certain types of jobs. It should thus be well managed. Certain new forms of mobility create types of work characterised by more flexible conditions, which need to respect EU labour law and ensure social protection.
Towards the future of mobility
The Sustainable and Smart Mobility Strategy, adopted in December 2020, defines digitalisation as an essential enabler for the transformation to safer, more efficient, accessible and sustainable mobility. It can play an important role in achieving the target of a 90% cut in greenhouse gas emissions from the transport sector by 2050.
A crucial challenge for Europe is unlocking the potential of mobility data by making it easier to access and to share. The European Commission relies on a combination of policies, both transport-specific and cross-sectoral, and financial support to achieve this objective.
The digitalisation of transport also requires the development and adoption of key technologies, which the EU supports through several funding and policy initiatives.
Cooperation is key for Europe's success
It is urgent to modernise digital infrastructure and accelerate the deployment of digital technologies in the field of mobility to achieve carbon-neutrality, competitiveness, technological sovereignty, resilience and security. The European Commission counts on the active role of European industry in investing in this digital transformation. The scale of investments needed requires cooperation among European stakeholders. Without partnerships, co-investments, common standards and interoperability, innovative solutions and approaches will not reach critical mass. The major investments by Member States, supported by the Recovery and Resilience Facility, represent an historic opportunity to accelerate this movement. The Commission encourages public and private stakeholders to take advantage of and participate in European initiatives and programmes.
Latest news
Related Content
Big Picture
Read more
The Data Act is a key measure for making more data available for use in line with EU rules and...