The European Commission is contributing to accelerating the digitalisation of the energy system by providing support for research and innovation, deployment, and cross-border connectivity infrastructure via its different programmes.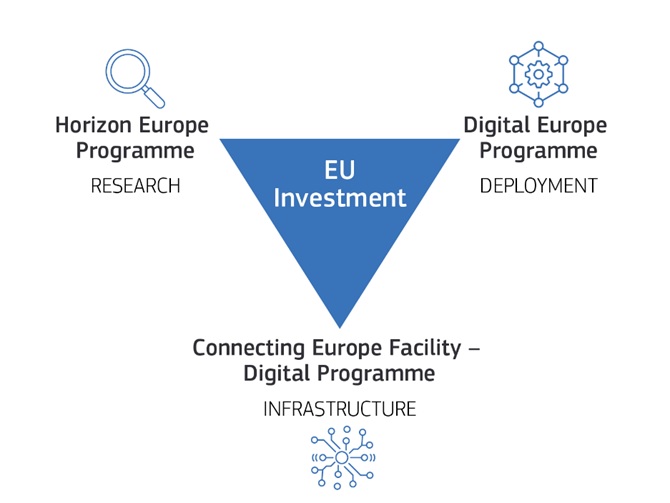 EU programmes to support the digital transformation of the energy system. Credit: European Commission
1. The Horizon 2020 programme
Through Horizon 2020, around €1 billion of EU support was allocated to research and innovation (R&I) projects in the areas of smart grids, energy storage, energy islands, and the digitalisation of energy.
Launched in 2015, the BRIDGE initiative brings together on a voluntary basis many of these R&I projects to create a structured view of cross-cutting issues encountered in the demonstration projects. It aims to foster knowledge sharing among projects as well as enable dialogue between innovation and market regulation through different Working Groups. The goal is to increase the impact that projects make in real-world settings to speed up the green and digital transformation of the energy system.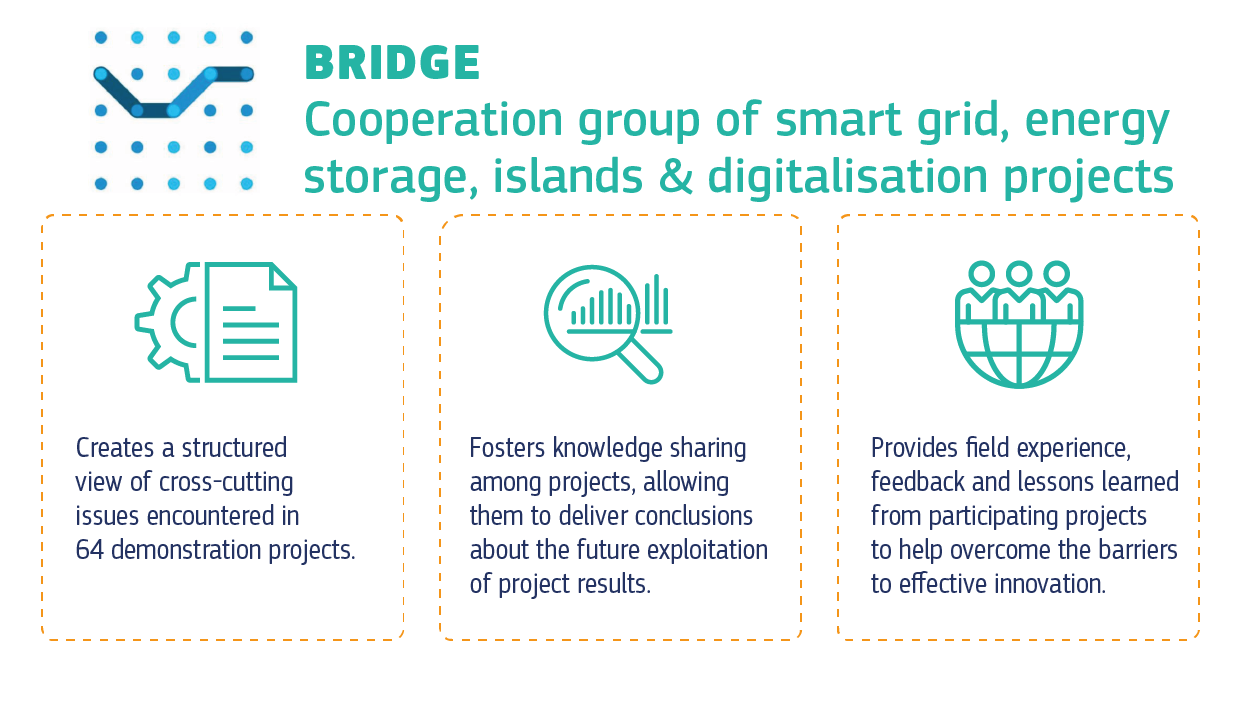 Credit: European Commission, Bridge
Below is information on several of these projects, which have a dominant digital component. The largest of the Horizon 2020 energy projects is InterConnect, launched in October 2019 and receiving almost €30 million in EU funding to develop and demonstrate advanced solutions for connecting and converging digital homes and buildings with the electricity system.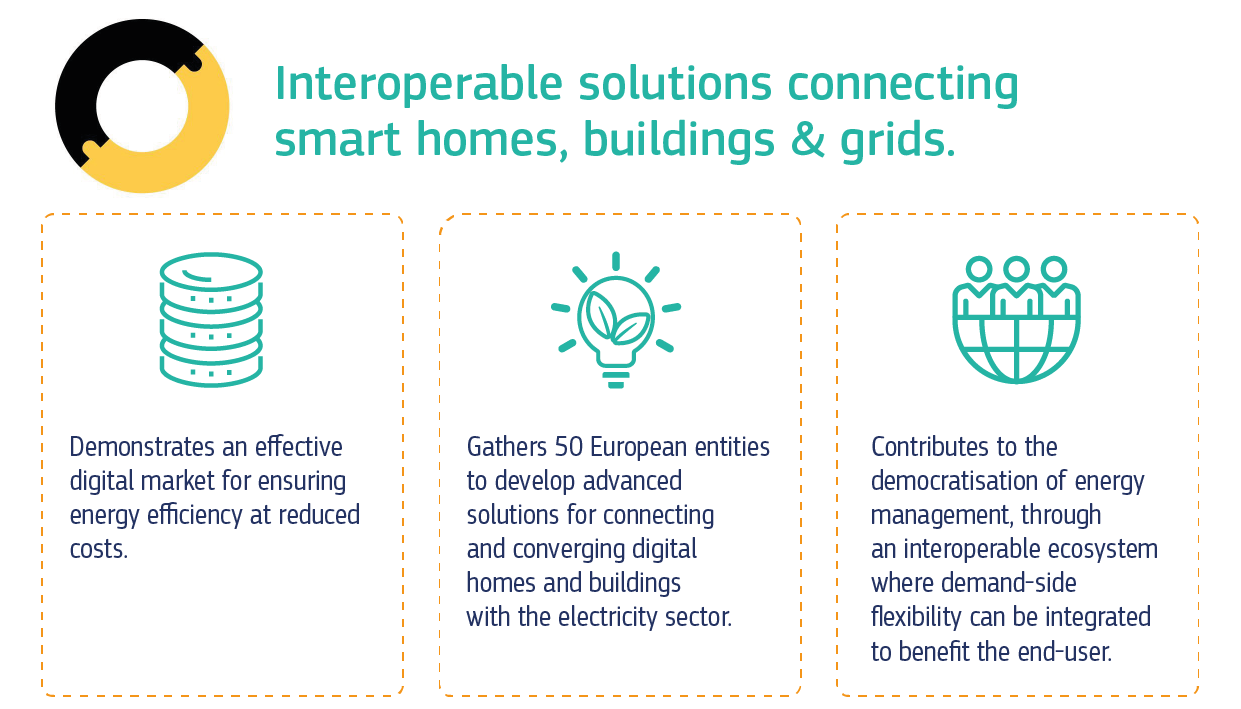 Credit: European Commission, InterConnect
OneNet "One network for Europe" provides seamless integration of all actors across the European electricity network to optimize the energy system & create an open & fair market structure.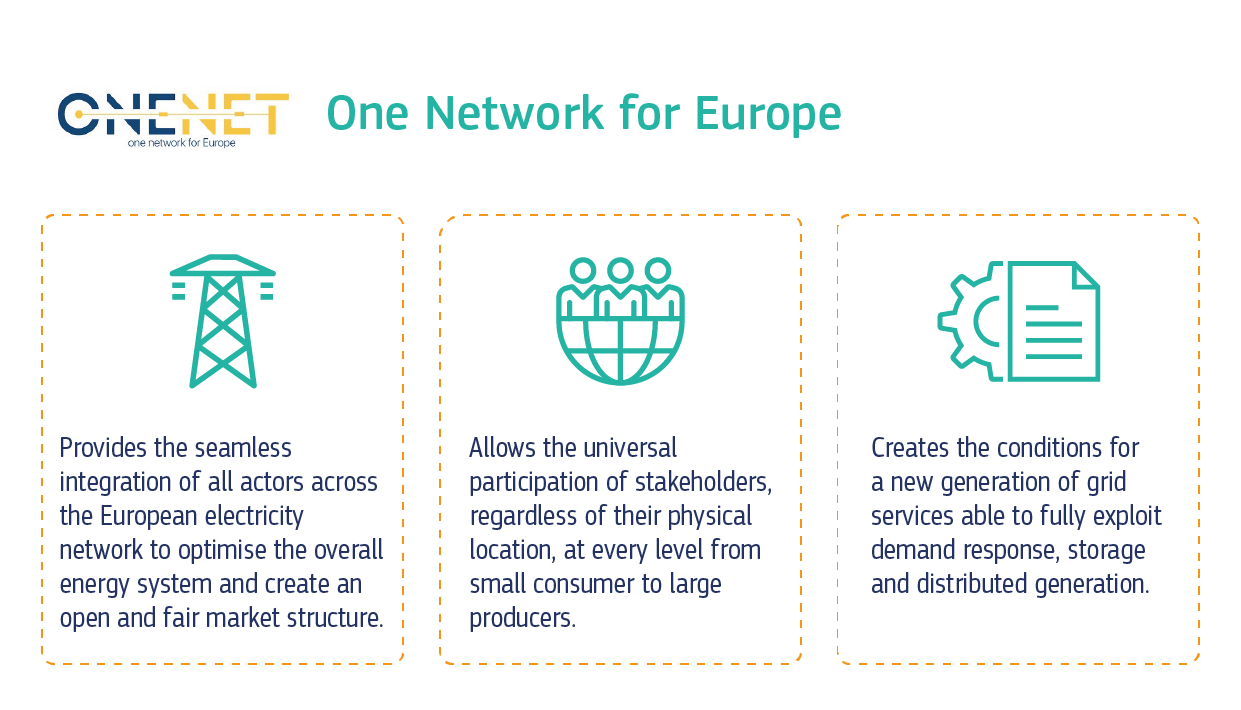 Credit: European Commission, OneNet
Seamless energy integration with Interrface project.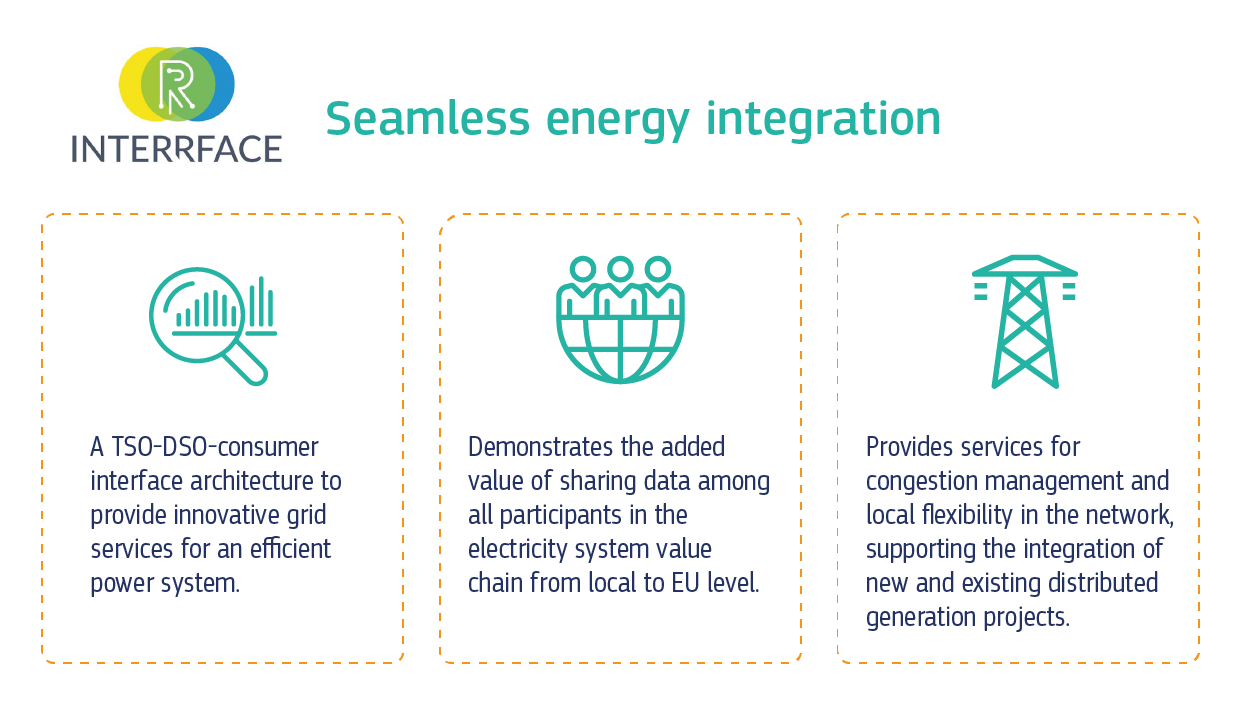 Credit: European Commission, Interrface
Coordinet procures energy more efficiently through greater consumer participation.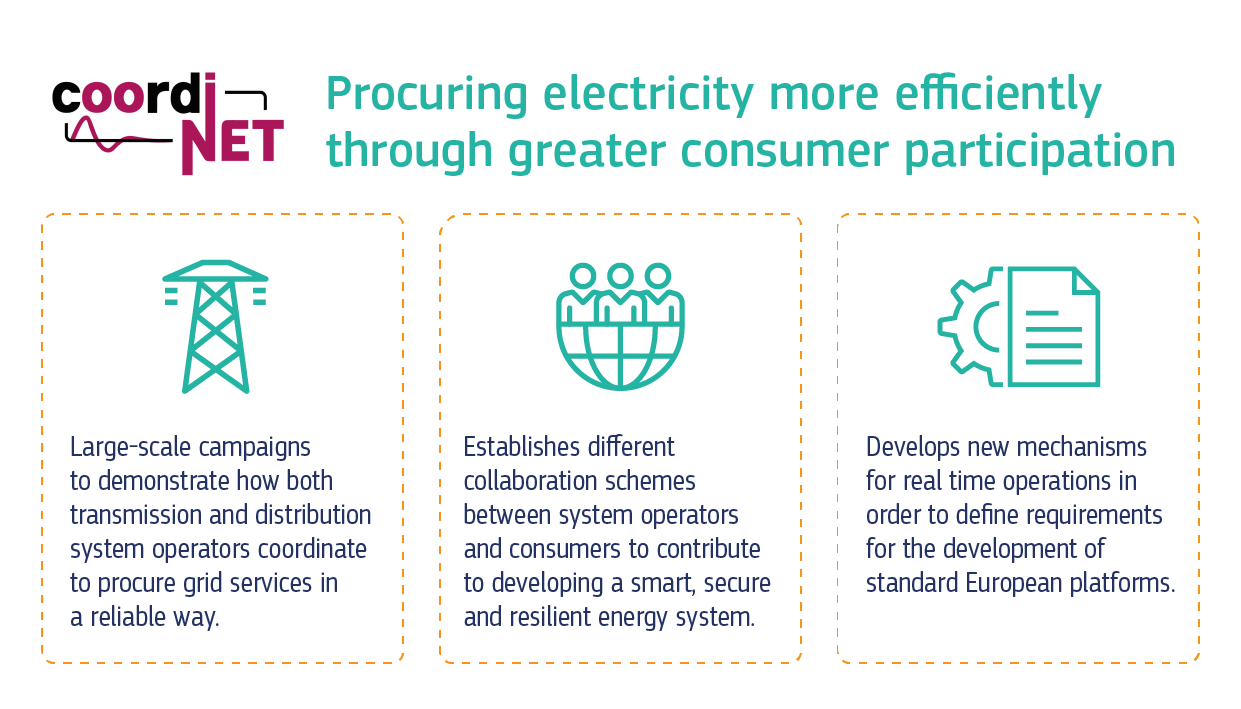 Credit: European Commission, CoordiNET
BD4NRG "big data for next-generation energy" develops a reference architecture for smart energy to align architectures with an interoperable AI-driven big data analytics framework.
Credit: European Commission, BD4NRG
Platoon "digital platform and analytic tools for energy" is an interoperable reference platform to deal with heterogenous data sources, formats, interfaces & enable data exchange between platforms.
Credit: European Commission, Platoon
BD4Opem stands for "big data for open innovation energy marketplace".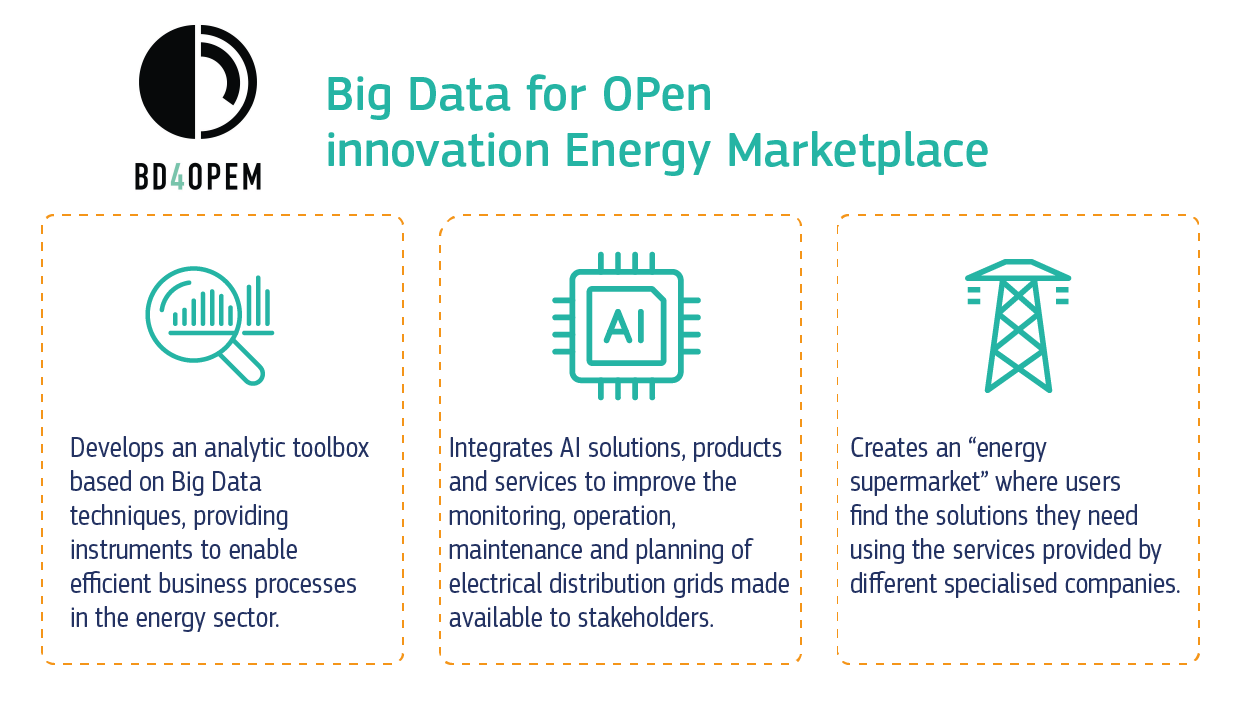 Credit: European Commission, BD4Opem
Platone is a platform for operation of distribution networks.
Credit: European Commission, Platone
Synergy is the big energy data platform and AI marketplace for new viable solutions.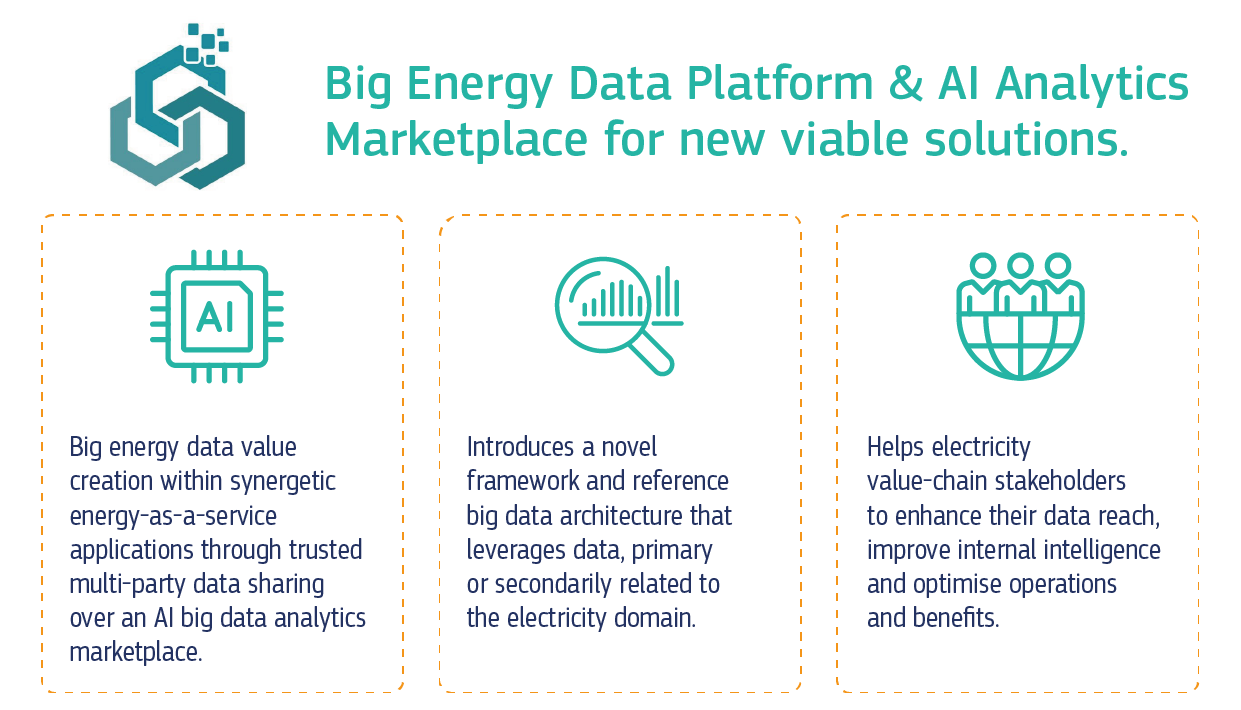 Credit: European Commission, Synergy
Meanwhile, the coordination and support action (CSA) Open DEI ensures a continuous link between the relevant EU-funded projects results and the European Commission's policy priorities.
Credit: European Commission, Open DEI
Following a similar approach to the BRIDGE initiative, a group of data centre projects joined the so called Green Data Centres cluster, working together towards finding solutions to increase renewable energy use, to reuse wasted heat and to integrate with smart grids.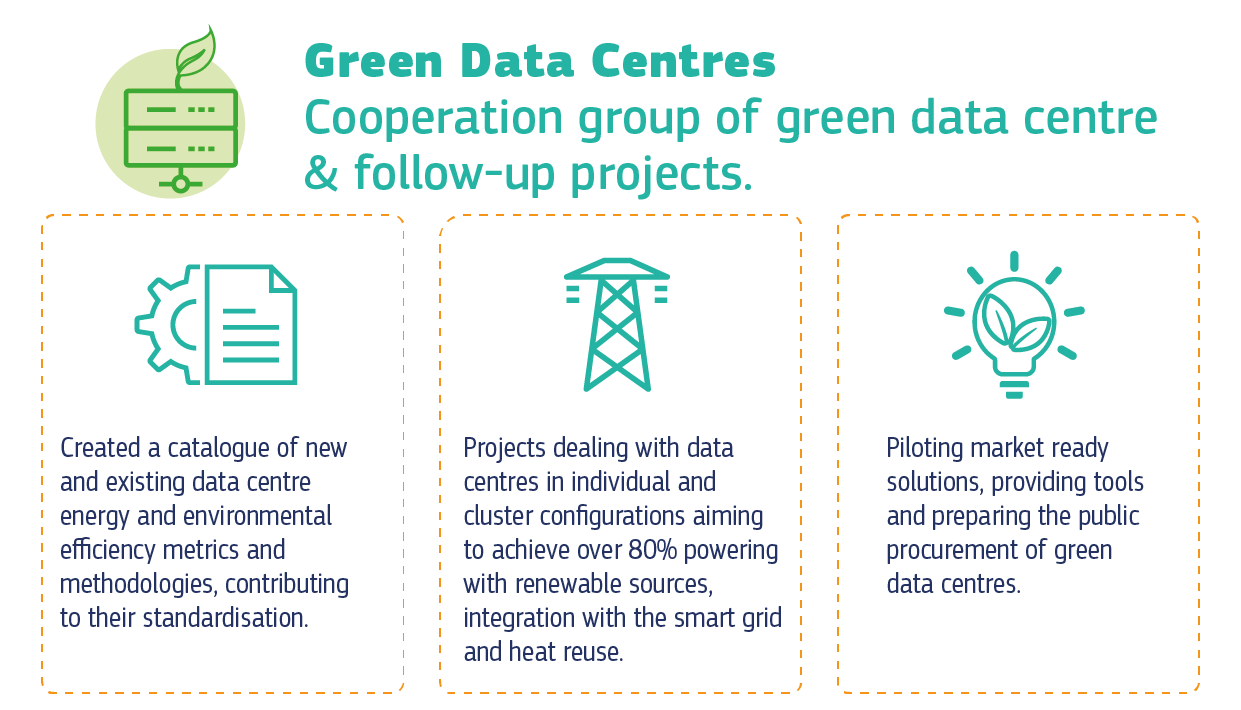 Credit: European Commission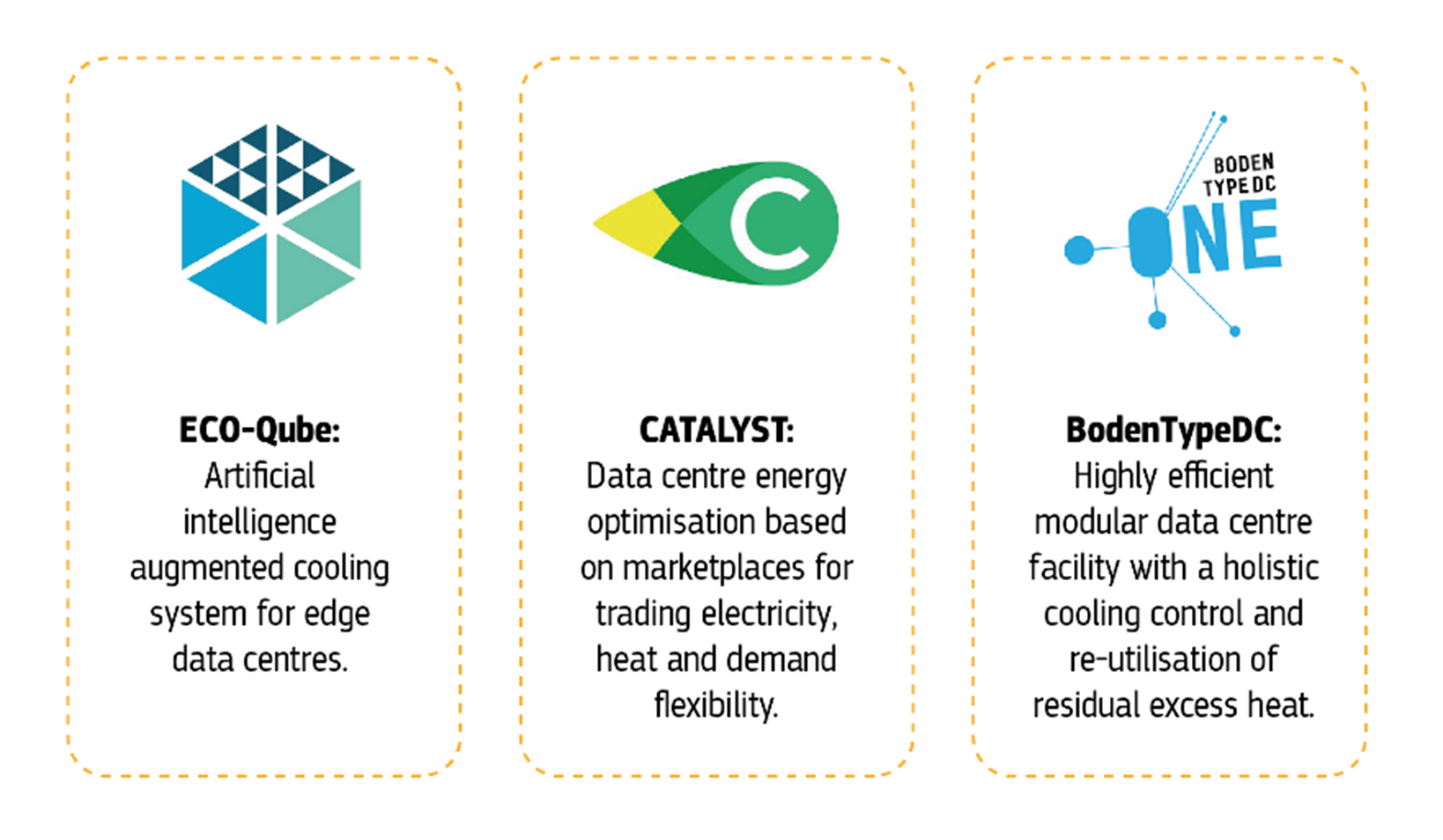 Credit: European Commission, Eco-Qube, Catalyst, BodenTypeDC
2. Boosting research and innovation under Horizon Europe
The EU flagship programme for R&I aims to set the best minds in Europe and beyond to work on delivering excellent solutions to the key issues of our time, including the contribution to a more efficient, clean, sustainable, secure, and competitive energy supply through new solutions for smart grids and energy systems, based on more performant renewable energy solutions and state-of-the art digital technologies.
With the first Horizon Europe Work Programme on Climate, Energy and Mobility the Commission aims to pave the way for the creation of a common European energy data space, as well as to support a community of practices that includes interoperability expertise relevant to the energy transition.
3. Co-funding deployment under DIGITAL
The Digital Europe Programme (DIGITAL) is designed to bridge the gap between digital technology research and market deployment. It will benefit Europe's citizens and businesses, in particular SMEs. Investment under DIGITAL supports the EU's twin objectives of a green and digital transformation while strengthening its resilience and digital sovereignty.
Relevant actions in support of the digitalisation of energy include the deployment of the energy data space, as well as the AI Testing and Experimentation Facilities and Digital Innovation Hubs.
4. Strengthening cross-border connectivity under CEF Digital
The Connecting Europe Facility – Digital (CEF2) programme aims to stimulate digital infrastructure investments in Member States during the period of 2021-2027, with the objective of supporting them in meeting the objectives of the Gigabit Society Strategy. The programme aims to support projects which ensure synergies between digital, transport and/or energy. Relevant actions include the deployment of Operational Digital Platforms. One project in the area of energy could be a platform for cross-border data exchange on availability of renewable energy and integration of data centres.
Latest News
Related Content
Big Picture