The European Commission organised a CEO Roundtable on Semiconductors on 10 January 2022. The event was hosted by Margrethe Vestager, Executive Vice-President for A Europe Fit for the Digital Age, and Thierry Breton, Commissioner for the Internal Market.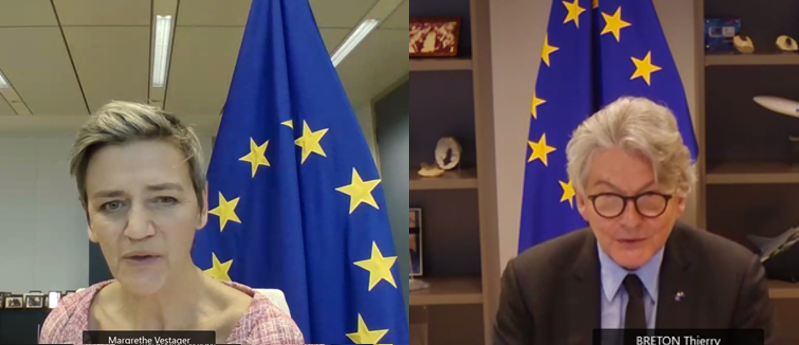 Within the past year, Europe has witnessed disruptions in the supply of chips, causing shortages across multiple economic sectors, which could have potentially serious societal consequences.
As the digital transformation accelerates, demand for semiconductors will increase. By 2030, the global market of chips is expected to double.  If no action is taken, shortages may continue to emerge. But it is not only about supply and demand. All modern economies are introducing measures to increase the resilience of the semiconductor ecosystem in their countries.
The CEO Roundtable was organised in preparation of the European Chips Act, announced by President Ursula von der Leyen in her State of the Union speech on 15 September 2021. With the European Chips Act, Europe aims to propose a coherent European vision and strategy, providing a framework to avoid a race of national public subsidies, fragmenting the single market, and placing Europe and its assets firmly in the global geopolitical landscape.
Europe has a strong market position in specific areas, such as power electronics, industrial automation and equipment manufacturing, manufacturing of analogue chips and low-power technology such as FDSOI. Europe is home to world-leading research and technology organisations.
However, Europe has some chronic vulnerabilities in the value chain, for example strong dependence on manufacturing, packaging, testing and assembly of chips in East Asia, or dependence on the design of chips in the US. Europe's market share in semiconductors is well below its economic weight. Currently, Europe does not have the capabilities to design and manufacture at leading-edge nodes.
The CEO Roundtable brought together a wide representation of the European semiconductor ecosystem, with representatives from start-ups and established companies, with design and manufacturing companies, and with leading European research institutes. The participating organisations were:
Alcyon Photonics (ES)
ASML (NL)
CEA-Leti (FR)
Fraunhofer (DE)
IMEC (BE)
Infineon (DE)
Kalray (FR)
Melexis (BE)
Nordic Semiconductor (NO)
NXP (NL)
Robert Bosch (DE)
SOITEC (FR)
STMicroelectronics (FR/IT)
Tachyum (SK)
The topics explored included the avenues for increasing transparency in semiconductor supply chains, the possibilities for investing in existing and new semiconductor production facilities, and the means for fostering technology and innovation leadership.
The participants agreed that joint action was needed to deliver on the ambitions of the European Chips Act initiative. The close links between semiconductor R&D, design, and manufacturing were emphasised. The semiconductor industry needs experts and a skilled workforce. The semiconductor industry needs to know the industries of its customers better, and vice versa.
Other key messages from the roundtable were:
Europe needs to build on its strengths, e.g. in R&D and equipment;
clear support for pilot lines and design infrastructures;
urgent need for a Chips Fund to support start-ups, scale-ups, and SMEs;
pressing need for an investment framework that will help to increase Europe's manufacturing capacity for both mature and advanced technologies to reach the 20% goal of the Digital Compass;
need for a worldwide level playing field and a more assertive Europe in the geopolitical arena.