The European Commission has been monitoring Member States' digital progress through the Digital Economy and Society Index (DESI) reports since 2014. Each year, DESI includes country profiles which support Member States in identifying areas requiring priority action as well as thematic chapters offering a European-level analysis across key digital areas, essential for underpinning policy decisions.
The DESI 2021 reports are based mainly on 2020 data and present the state of the digital economy and society in the first year of the pandemic. DESI 2021 has been adjusted to reflect the two major policy initiatives set to have an impact on the digital transformation in the EU in the coming years: the Recovery and Resilience Facility (RRF) and the Digital Decade Compass. 
DESI 2021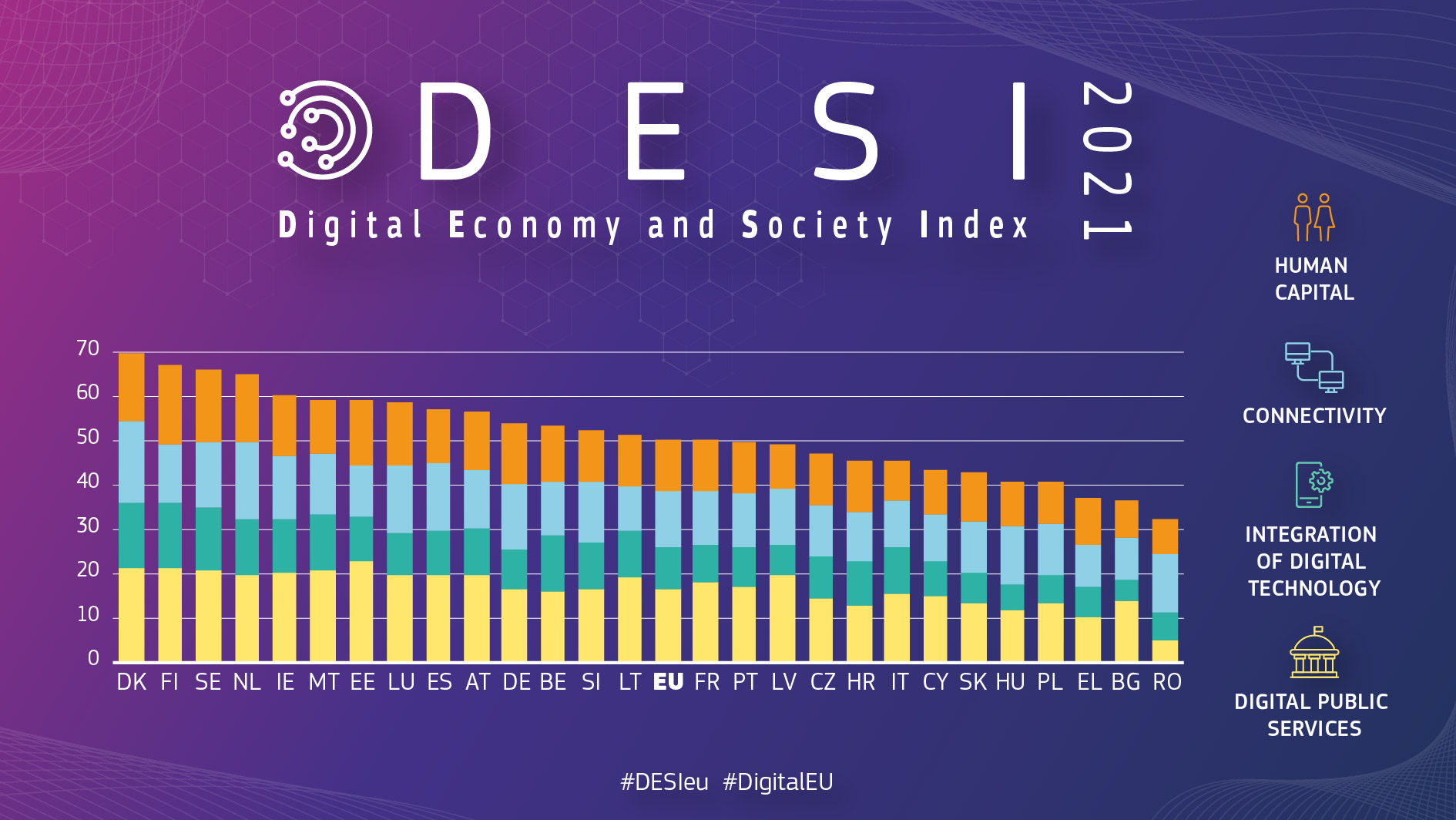 Download European Analysis 2021 (.pdf) 
Download methodology DESI 2021 (.pdf) 
DESI Key Areas
Women in Digital (WiD) Scoreboard
The WiD scoreboard is one of the actions put in place to assess women's inclusion in digital jobs, careers and entrepreneurship. The scoreboard assesses Member States' performance in the areas of Internet use, Internet user skills as well as specialist skills and employment based on 12 indicators.
International DESI 2020
The International Digital Economy and Society Index (I-DESI) mirrors and extends the DESI by utilising 24 datasets to enable trend analysis and comparison of the digital performance of 45 countries. The analysis includes the EU27 Member States and 18 non-EU countries that have a global distribution.
Read the full International DESI 2020 final study report
See how the EU member states compare to non-EU countries
Latest News
Related Content
Big Picture
Europe's Digital Decade
The EU will pursue a human-centric, sustainable vision for digital society throughout the digital decade to empower citizens and businesses.