fix-empty
Digital society and digital technologies bring with them new ways to learn, entertain, work, explore, and fulfil ambitions. They also bring new freedoms and rights, and give EU citizens the opportunity to reach out beyond physical communities, geographical locations, and social positions.
However, there are still many challenges associated with the digital transformation. The digital world should be based on European values – where no one is left behind, everyone enjoys freedom, protection and fairness. Europe's Digital Decade is where everyone has the skills to use everyday technology. Even small businesses use technology to make better business decisions, interact with their customers or improve parts of their business operations. Connectivity reaches people living in villages, mountains and remote areas, so everyone can reach online opportunities and participate in the benefits of the digital society. Key public services and administrative procedures are online for the convenience of citizens and businesses.
The Digital Decade is a comprehensive framework that will guide all actions related to digital. The aim of the Digital Decade is to ensure all aspects of technology and innovation work for people.
The framework for the Digital Decade includes the Digital Decade policy programme, the Digital Decade targets, the objectives, the multi-country projects and the Digital Decade rights & principles:
The Digital Decade targets are measurable goals for each of the four areas: connectivity, digital skills, digital business and digital public services.
The Digital Decade objectives will guide Member State actions. The Commission will inform about the Member States' actions in the annual report.
The Digital Decade policy programme will allow the EU and the Member States to work together to reach the Digital Decade targets and its objectives. It lays down a mechanism to monitor progress towards 2030. Every year, the Commission will publish a report to take stock of the progress made.
The multi-country projects will allow Member States to pool investments and launch large-scale, cross-border projects.
The Digital Decade rights and principles reflect EU values, which have to be respected in the digital world.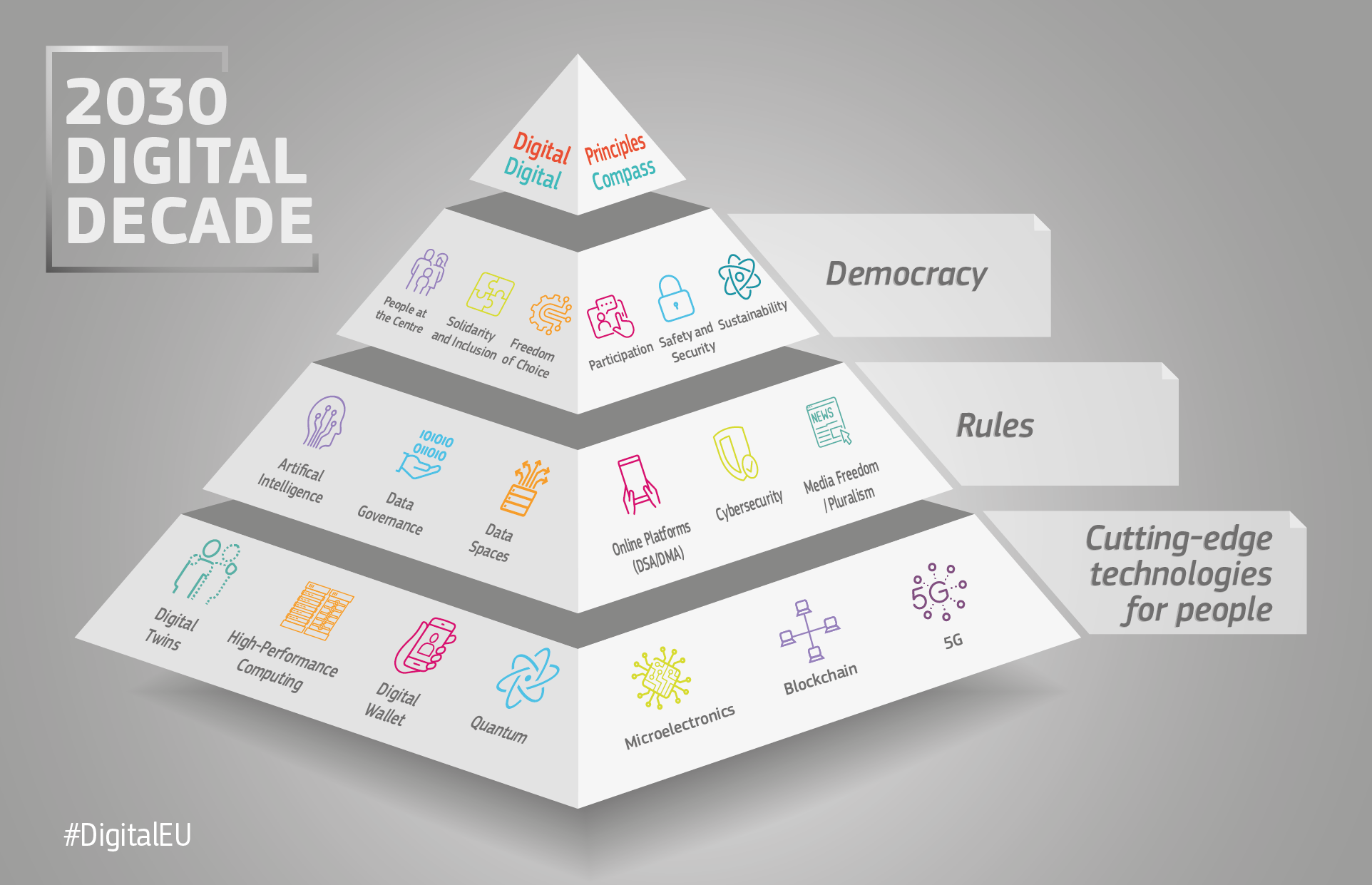 Latest News
Related Content
DigitalEU Ambassadors
The DigitalEU Ambassadors brings together journalists, editors and influencers, active in the field of digital & tech topics.