The Commission wants to ensure people are empowered to fully enjoy the opportunities that the digital decade brings. So, it has proposed a set of European digital rights and principles that reflect EU values and promote a sustainable, human-centric vision for the digital transformation.
The suggested European digital rights and principles will complement existing rights, such as data protection, ePrivacy, and the Charter of Fundamental Rights. They will build on the experience of the European of Social Rights. And, they will provide guidance for the EU and Member States as they design digital rules and regulations.
The principles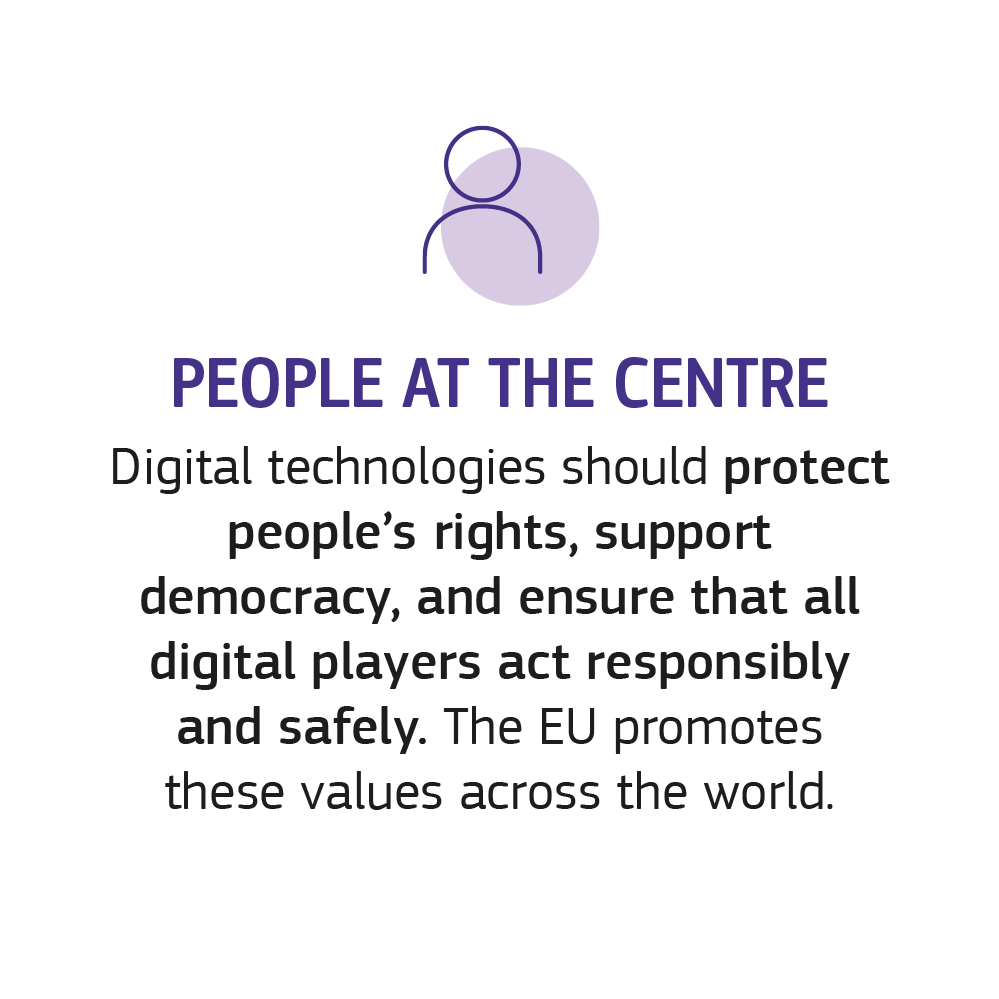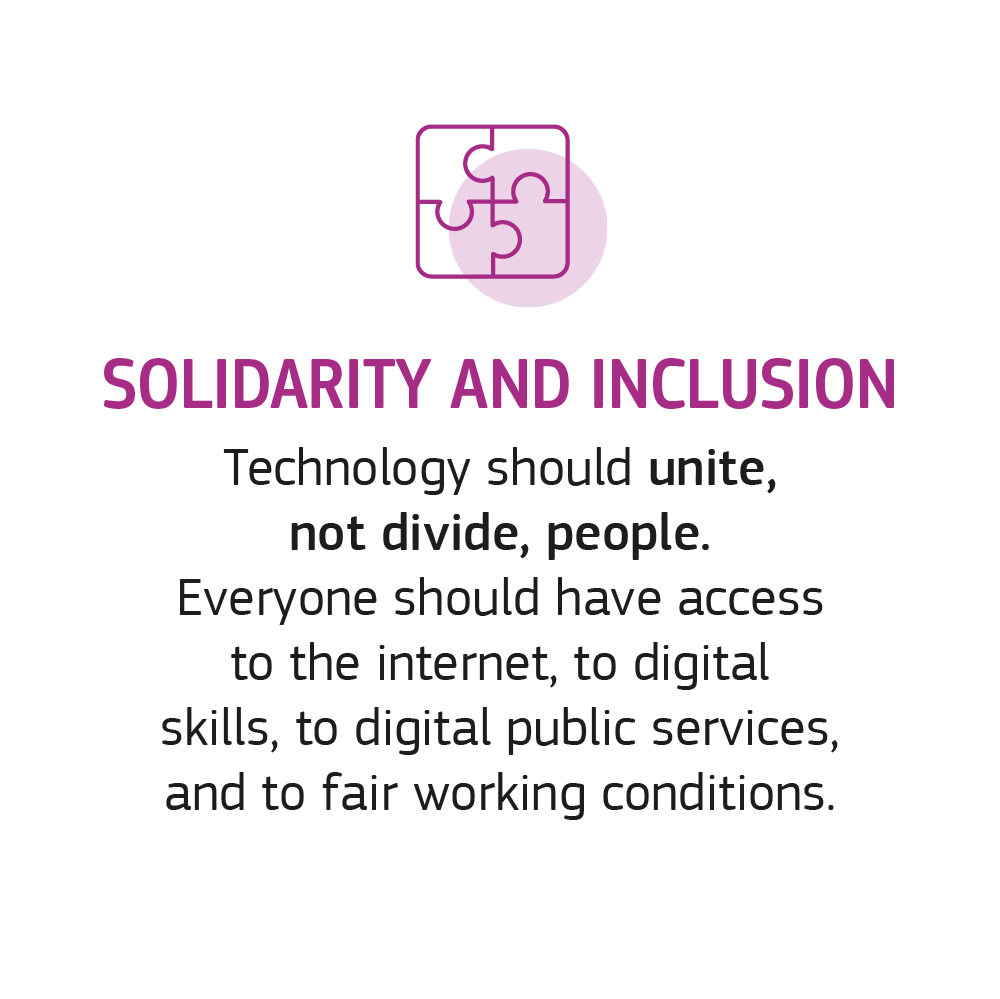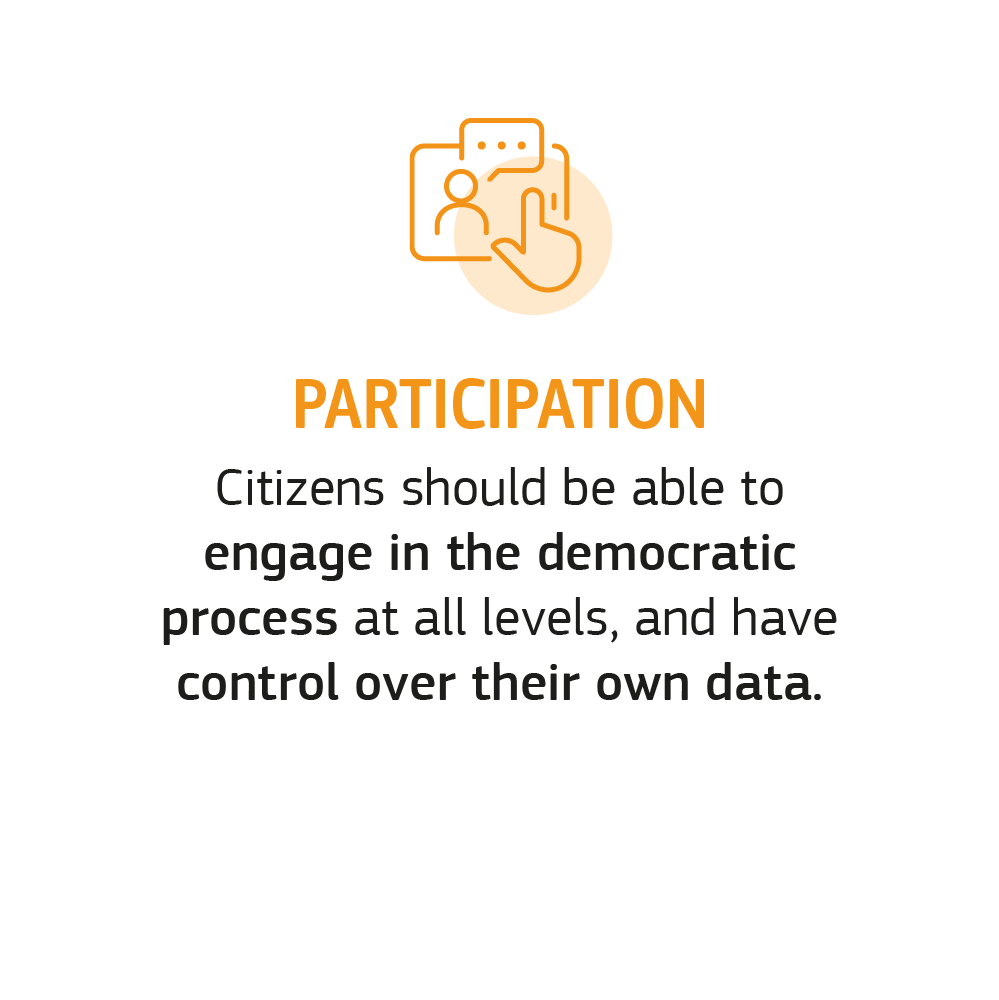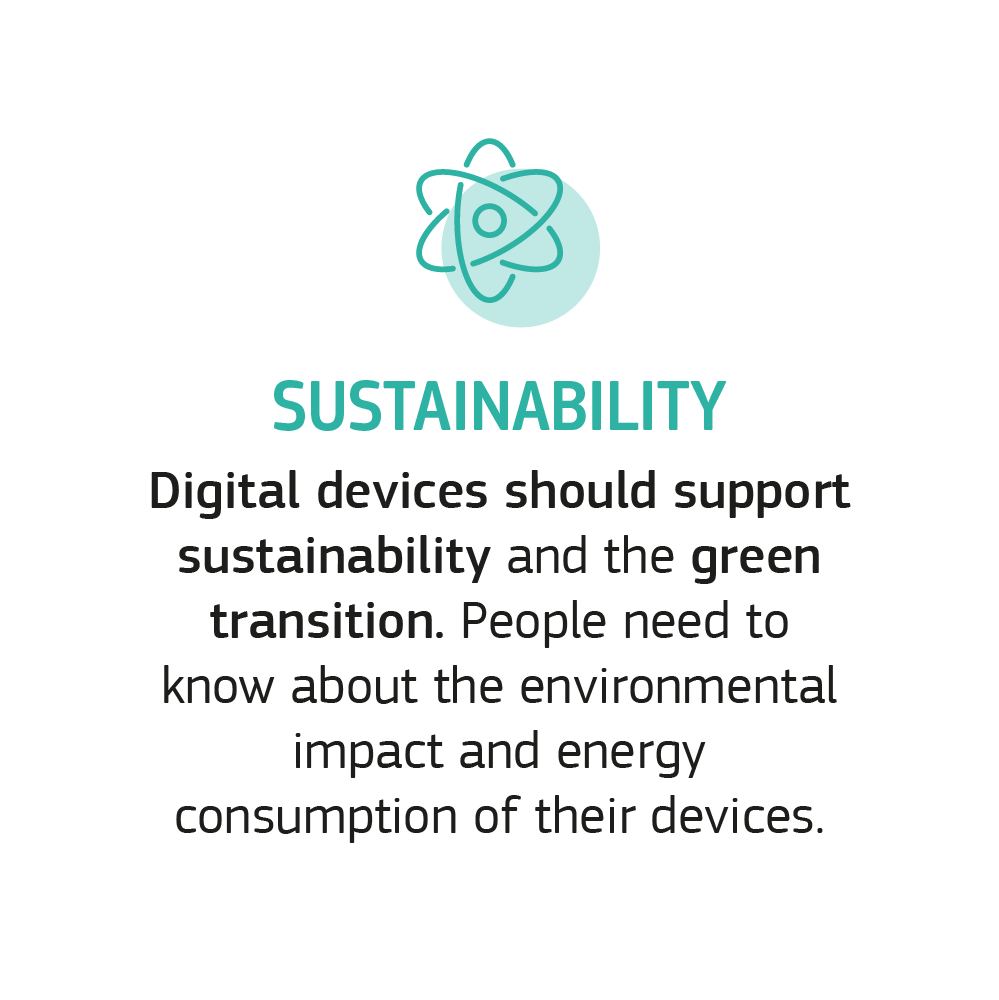 The principles are shaped around 6 themes:
Putting people and their rights at the centre of the digital transformation
Supporting solidarity and inclusion
Ensuring freedom of choice online
Fostering participation in the digital public space
Increasing safety, security and empowerment of individuals
Promoting the sustainability of the digital future
Putting people at the centre of the digital transformation
Technology should serve and benefit all Europeans and empower them to pursue their aspirations. It should not infringe upon their security or fundamental rights.
Signatories of the declaration will commit to:
strengthening the democratic framework for a digital transformation that benefits everyone and improves the lives of all Europeans;
taking necessary measures to ensure that the values of the Union and the rights of individuals as recognised by Union law are respected online as well as offline;
fostering responsible and diligent action by all digital actors, public and private, for a safe and secure digital environment;
actively promoting this vision of the digital transformation, also in our international relations.
Solidarity and inclusion
Everyone should have access to technology, which should be inclusive, and promote our rights.
Signatories will commit to: 
making sure that technological solutions respect people's rights, enable their exercise and promote inclusion;
a digital transformation that leaves nobody behind. It should notably include elderly people, persons with disabilities, or marginalised, vulnerable or disenfranchised people and those who act on their behalf;
developing adequate frameworks so that all market actors benefiting from the digital transformation assume their social responsibilities and make a fair and proportionate contribution to the costs of public goods, services and infrastructures, for the benefit of all Europeans.
There are a number of areas the declaration covers to ensure no one is left behind in the digital transformation. These areas include:
Connectivity: 

ensuring access to excellent connectivity for everyone, wherever they live and whatever their income;
protecting a neutral and open Internet where content, services, and applications are not unjustifiably blocked or degraded.

Digital education and skills:

promoting and supporting efforts to equip all education and training institutions with digital connectivity, infrastructure and tools,
supporting efforts that allow learners and teachers to acquire and share all necessary digital skills and competences to take an active part in the economy, society, and in democratic processes.
giving everyone the possibility to adjust to changes brought by the digitalisation of work through up-skilling and re-skilling.

Working conditions: 

ensuring that everyone shall be able to disconnect and benefit from safeguards for work-life balance in a digital environment.

Digital public services: 

ensuring that all Europeans are offered an accessible, secure and trusted digital identity that gives access to a broad range of online services,
ensuring wide accessibility and re-use of government information.
facilitating and supporting seamless, secure and interoperable access across the Union to digital health and care services, including health records, designed to meet people's needs.
Freedom of choice
People should be empowered to make their own, informed choices online. The declaration seeks to guarantee this by committing to: 
ensuring transparency about the use of algorithms and artificial intelligence, and that people are empowered and informed when interacting with them;
ensuring that algorithmic systems are based on suitable datasets to avoid unlawful discrimination and enable human supervision of outcomes affecting people;
ensuring that technologies, such as algorithms and artificial intelligence are not used to pre-determine people's choices, for example regarding health, education, employment, and their private life;
providing for safeguards to ensure that artificial intelligence and digital systems are safe and used in full respect of people's fundamental rights.
Freedom of choice also includes being free to choose which online services we use, based on objective, transparent and reliable information. This in turn involves making sure everyone is empowered to compete and innovate in the digital world.
Therefore, signatories commit to: 
ensuring a safe, secure and fair online environment where fundamental rights are protected, and responsibilities of platforms, especially large players and gatekeepers, are well defined.
Participation in the digital public space
Everyone should have access to a trustworthy, diverse and multilingual online environment and should know who owns or controls the services they are using. They should be able to express themselves online without fear of being censored or intimidated. This encourages pluralistic public debate and participation in democracy.
The digital principles commit to ensuring this by:
supporting the development and best use of digital technologies to stimulate citizen engagement and democratic participation;
continuing safeguarding fundamental rights online, notably the freedom of expression and information.
Safety, security and empowerment
Everyone should have access to safe, secure and privacy-protective digital technologies, products and services. The digital principles commit to protecting the interests of all against cybercrime, including cyberattacks and data breaches, and confronting those that seek to undermine the security of our online environment.
They will do this by: 
Protecting the interests of people, businesses and public institutions against cybercrime, including data breaches and cyberattacks. This includes protecting digital identity from identity theft or manipulation.
Countering and holding accountable those that seek to undermine security online and the integrity of the Europeans' online environment or that promote violence and hatred through digital means.
Ensuring the possibility to easily move personal data between different digital services.
The digital principles also aim to keep children and young people safe online. They commit to: 
promoting a positive, age-appropriate and safe digital environment for children and young people;
providing opportunities to all children to acquire the necessary skills and competences to navigate the online environment actively, safely and make informed choices when online;
protecting all children against harmful and illegal content, exploitation, manipulation and abuse online, and preventing the digital space from being used to commit or facilitate crimes.
Sustainability
The digital and green transitions are closely linked. While digital technologies offer many solutions for climate change, we must ensure they do not contribute to the problem themselves. Digital products and services should be designed, produced, and disposed of in a way that reduces their impact on the environmental and society. There should also be more information regarding the environmental impact and energy consumption of such services.
The Declaration commits to:
supporting the development and use of sustainable digital technologies that have minimal environmental and social impact;
developing and deploying digital solutions with a positive impact on the environment and climate.
Next Steps
The European Parliament and the Council of the European Union will discuss the proposal before adoption. Once jointly endorsed, the Declaration will set out the approach to the digital transformation that the EU will champion on the global stage.
Related Content
Big Picture
Europe's Digital Decade
The EU will pursue a human-centric, sustainable vision for digital society throughout the digital decade to empower citizens and businesses.
DigitalEU Ambassadors
The DigitalEU Ambassadors brings together journalists, editors and influencers, active in the field of digital & tech topics.