Horizon Europe
Under the Horizon Europe programme, Research and Innovation (R&I) is a key driver in accelerating the transition to sustainable, healthy and inclusive food systems. The Commission has invested in Horizon 2020 projects to boost innovation in the agricultural sector, and under Horizon Europe's Pillar II, €9 billion will be invested in Cluster 6 'food, bioeconomy, natural resources, agriculture, fisheries, aquaculture & the environment', including the use of digital solutions for the agricultural sector. In addition, under Pillar II, Cluster 4 'Digital, Industry and Space', innovative technologies such as IoT, cloud and edge computing, AI, robotics, and blockchain will be tested and validated in agricultural use cases.
Cluster 4: Digital, Industry and Space
Testing and validation of innovative technologies through use cases in agriculture: IoT, AI, robotics, blockchain and edge computing.
Cluster 6: Food, Bioeconomy, Natural Resources, Agriculture and Environment
Apply advanced technologies in agri-food: drones, smart IoT, AI, upscaling real-time sensor data, 5G and edge solutions for remote farming
Cross-benefit analysis
Potential market exploration, roadmap for adoption of technologies
DIGITAL
The DIGITAL programme:
A common European agricultural data space
AI testing & experimentation facilities
Digital Innovation Hubs
Digital skills
A common European agricultural data space
The Commission will support the implementation of a common European agricultural data space facilitating the trustworthy sharing and pooling of agricultural data.
The data space will increase the economic and environmental performance of the agricultural sector.
It will optimise the use of natural resources and contribute to the Green Deal and Common Agricultural Policy objectives.
In the development of governance and business models for the common European agricultural data space, the evolving regulatory environment, and experiences with the EU Code of Conduct on sharing agricultural data by contractual agreement will be considered.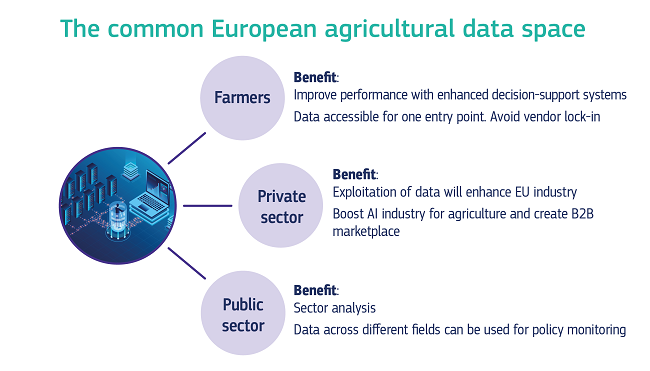 Artificial Intelligence Testing and Experimentation Facilities
Under the Digital Europe Programme, the European Commission and Member States will develop world-class, large-scale reference Testing and Experimentation Facilities (TEF) for AI in several sectors, including for agri-food.
Innovative technology providers like start-ups and SMEs will benefit from professional support in testing and validating their AI and robotics solutions under real conditions.
There will be a boost in the uptake of trustworthy AI for the European agri-food sector.
TEF will benefit from upgrades to world reference standards.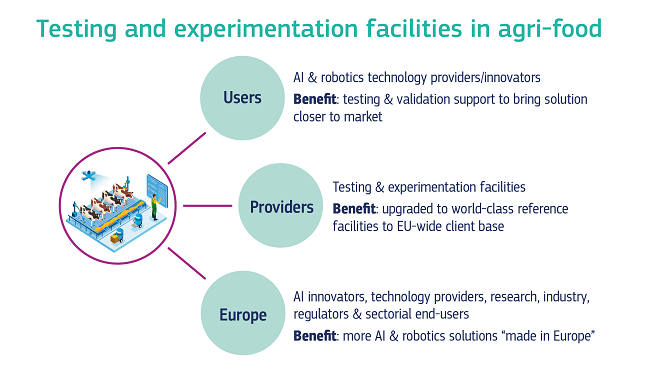 European Digital Innovation Hubs
The Commission will accelerate the best use of digital technologies by setting up European Digital Innovation Hubs (EDIHs). In the agricultural sector, the experiences and lessons learned from the existing DIH SmartAgriHubs and AgroRobofood will be a good reference point.
European DIHs provide technological expertise and experimentation facilities to enable the digital transformation of the industry and the public sector.
Digital skills
As seen in the graphic, (digital) skills and training are essential to the success of the EDIHs. Investment is needed on enhancing the digital skills of the farmers. This can be achieved via specialised education programmes or modules in key capacity areas. Furthermore, there should be a provision of support to the design and implementation of specific courses in digital technologies for professionals in the agricultural sector.
What are the main objectives of the new Common Agricultural Policy?
The Common Agricultural Policy (CAP) post-2020 is proposed to be structured around 9 specific objectives and a cross-cutting objective on digitisation, knowledge and innovation. Member States will have a portfolio of CAP tools that they can include in their National CAP Strategic Plans to boost digitalisation in agriculture and rural areas, e.g. advisory services, knowledge exchange, investment support or the European Innovation Partnership for Agricultural productivity and Sustainability (EIP-AGRI).
The EIP-AGRI (European Innovation Partnership for Agricultural Productivity & Sustainability) aims to:
Foster innovation for competitive and sustainable farming and forestry in the EU.
Support innovative Operational Group (OG) projects focussing on farmers' needs to co-create and test innovative solutions ready for practice.
So far, 2000 OG projects were funded, with a number of them working on digital-based innovations.
What about the Farm to Fork strategy?
One of the pillars of the EU Green Deal is the Farm to Fork strategy. In this strategy, the 2030 targets for sustainable food production are challenging and ambitious for the agricultural sector, in which digital is a key to success. A successful implementation of this strategy was an IoF2020 use case on arable farming, where IoT technologies were used to optimise the use of pesticides on the land, minimising harmful chemicals in the environment and making crops safe for consumption.
As announced in the European Strategy for Data, the Commission will support the research, development, and large-scale deployment of next-generation cloud infrastructures and services across the EU. These new cloud and edge capacities should be highly secure, completely interoperable and offer open, multi-vendor cloud platforms and services. They will enable the European data spaces and foster innovative data-sharing ecosystems based on European cloud and edge solutions.
In order to coordinate investment efforts and mobilise key European industrial actors, the European Council's conclusions and Member States' joint declaration on cloud of October 2020 called for the launch of the European Alliance for Industrial Data, Edge & Cloud. The alliance could serve as a unique stakeholder platform to plan EU investments and foster strategic partnerships to strengthen Europe's industrial position in the global cloud and edge computing market. The alliance should support the integration of these investments with those foreseen for the deployment of European data spaces.
If several Member States wish to jointly propose a possible Important Project of Common European Interest (IPCEI) focussing on next-generation technologies for cloud and edge infrastructure and services, the Commission will accompany them in order to set this up in accordance with the requirements in the 2014 IPCEI Communication,  which may benefit from the allocation of funds from the Recovery and Resilience Facility and a possible multi-country project.
How could the European Cloud & Edge strategy impact the agricultural sector?
The common European agricultural data space is expected to fully employ European cloud-to-edge infrastructures and services funded under the DIGITAL programme, once these infrastructures and services become available.
How will the European Strategy for Data affect the agricultural sector?
The European Strategy for Data adopted in February 2020 aims to establish a single market for data, ensuring Europe's global competitiveness. This means enabling data sharing as well as practical, fair and clear rules on data use and access. The relevant Communication from the Commission announced the creation of sector- and domain-specific data spaces, among them a common European agricultural data space.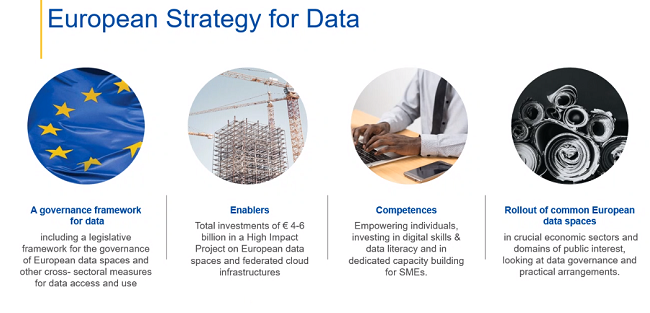 The Commission proposed a Data Governance Act in November 2020, which includes measures to increase trust in business-to-business (B2B) data sharing. This creates EU rules on neutrality to allow novel data intermediaries to function as trustworthy data sharing organisers, and includes measures to facilitate the reuse of certain data held by the public sector.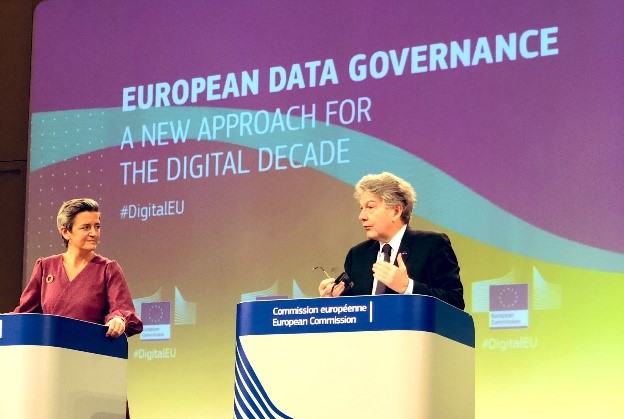 By mid-2021, the European Commission will propose an implementing act on making public sector high-value datasets in a machine-readable format freely available for reuse. Then, by the end of 2021, the Commission will propose a Data Act in order to stimulate the use of privately-held data by governments, addressing issues related to data access and use in B2B settings.
Collaboration is key for Europe's success
In order to achieve true excellence in the digitisation of agriculture, collaboration is paramount. The European Commission is showing the way through an effective and close collaboration between DG CNECT (Directorate-General for Communications Networks, Content & Technology) and DG AGRI (Directorate-General for Agriculture & Rural Development), setting the example for all stakeholders to follow.
As is widely accepted, we are stronger when we work together. Communication between farmers, agricultural machine manufacturers, cooperatives and pesticide suppliers must be facilitated, as well as for private actors such as digital and agricultural ministries, and others in the public sector. Only then can we succeed in the digital transformation of agriculture.
Related Content
Big Picture
The declaration of cooperation on digital agriculture
On Digital Day in April 2019, 24 EU Member States and the UK signed the declaration on "A smart and sustainable digital future for European agriculture and rural areas", containing commitments for action in 3 areas:
Explore on this site
The strategy for data focuses on putting people first in developing technology, and defending and...