The '1+ Million Genomes' (1+MG) initiative aims to enable secure access to genomics and the corresponding clinical data across Europe for better research, personalised healthcare and health policy making. Since the Digital Day 2018, 24 EU countries, the UK and Norway signed Member States' declaration on stepping up efforts towards creating a European data infrastructure for genomic data and implementing common national rules enabling federated data access. The initiative forms part of the EU's agenda for the Digital Transformation of Health and Care and is aligned with the goals of the European Health Data Space.
What is the benefit for EU citizens?
Genomics has the potential to revolutionise healthcare in many ways. It could lead to the development of more targeted personalised medicines, therapies and interventions. It could also enable better diagnostics, boost prevention and make more efficient use of scarce resources. From cancer to rare diseases to neurodiseases and prevention, genomics can greatly improve health conditions of EU citizens.
Equally important, genomics has the potential to improve the effectiveness, accessibility, sustainability and resilience of health systems in the European Union.
What are the Signatories trying to achieve?
The Signatory countries have various objectives. Among these, are:
ensuring that appropriate technical infrastructure is available across the EU, allowing for secure, federated access to genomic data;
making sure that ethical and legal implications of genomics are clear and taken into account;
ensuring that the general public and policy makers in Member States and signatory countries are well informed about genomics, in order to ensure its uptake by healthcare systems and integration into personalised healthcare.
The EU as a global player in genomics
We live in an era where genomics becomes increasingly important globally. The European Union's genomic collaboration and research have to be citizen-focused and patient-friendly. It should make sure that the highest standards are applied for the usage, access and storage of genomic data. 1+MG is one of world's biggest projects of this kind and contributes chiefly to setting global standards in this domain. The connection to the European Health Data Space will provide an additional boost to the information potential benefitting researchers, healthcare professionals and all citizens, eventually.
Implementation of the Declaration
Creating a complex data infrastructure for genomic and clinical data is a collaborative task, which will involve a variety of stakeholders. These include health professionals, specialists, researchers, decision-makers, patient organisations and more.
The signatory countries had their kick-off meeting on 21 September 2018 in Brussels. Since then, they meet regularly with each other and in 12 specialised working groups to define specifications and formulate guidelines for implementing genomics across Europe in line with the 1+MG Declaration.
In late 2020, the Commission created a special expert group (1+MG Group) with a view to formalising and facilitating the cooperation and coordination at the level of national representatives of the signatory countries. The group is co-chaired by the Commission and an EU country representative.
The 1+MG roadmap
To meet the objectives of the 1+MG Declaration, the signatories realise the 1+ Million Genomes initiative along a two-staged roadmap detailing their activities across four dimensions: governance, trust framework, infrastructure and data.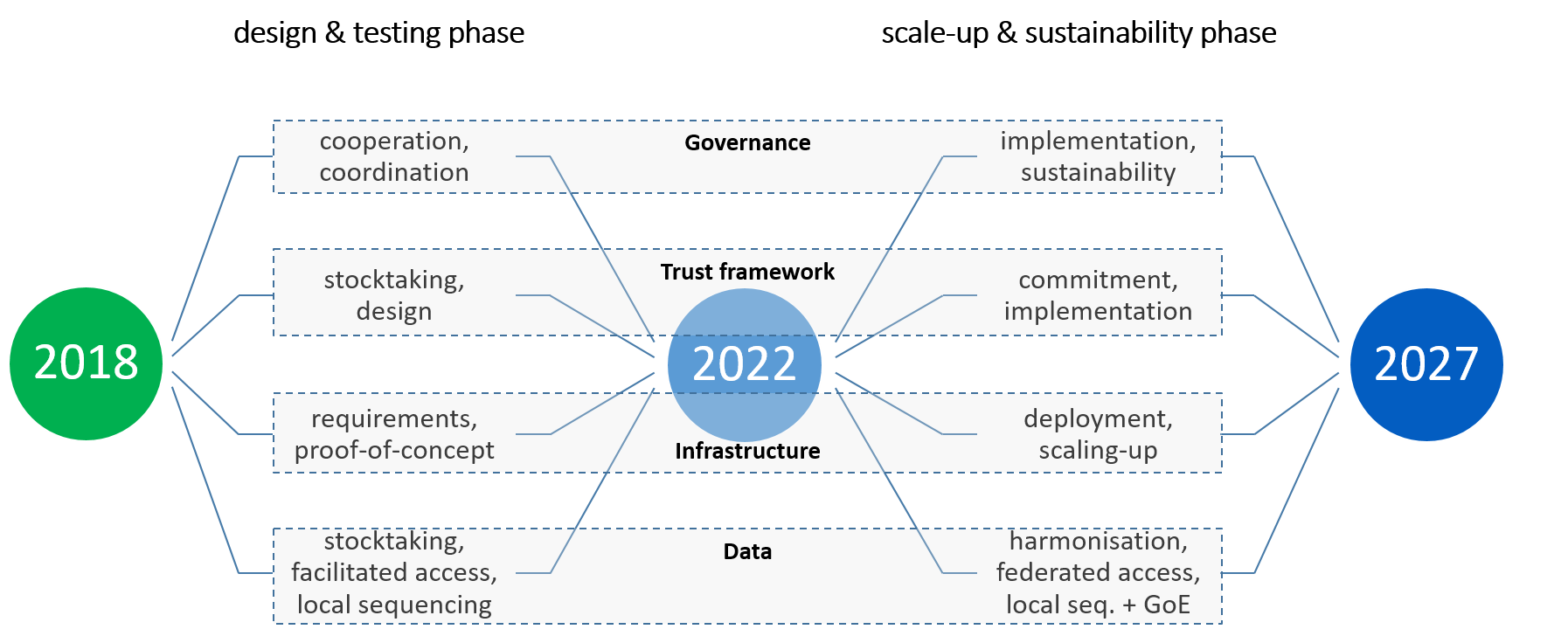 In the first phase, the Horizon 2020 project 'Beyond 1 Million Genomes' (B1MG) supports and coordinates on the operational level the implementation of the Roadmap by leading up to an agreement on the infrastructure set-up, legal and technical guidance, data standards, and requirements and best practices to enable data access. It also looks beyond the initiative towards the development of a sustainable data sharing infrastructure. This will support clinicians to pursue personalised medicine, benefit patients, activate efficiencies in healthcare systems, help scientists to form a better understanding of diseases, and innovators to contribute to and boost the European economy.
In November 2022, the project Genomic Data Infrastructure (GDI) co-funded under the Digital Europe programme, was launched marking the start of the scale-up and sustainability phase of the 1+MG initiative. It will establish a federated data infrastructure for genomic and clinical data across Europe enabling distributed learning for various use cases, provide a data access governance and a sustainable coordination mechanism, and contribute to improving the inter-operability of genomic and clinical data made available for access. The project will also design and implement a comprehensive communication strategy aiming to inform citizens and ensure their trust, which is a key pre-requisite of a success for this endeavour. 
Genome of Europe
The Genome of Europe is a multi-country project designed and coordinated with the support of B1MG. It brings together European countries to build a high-quality European network of national genomic reference cohorts, representative of the European population. 
All countries involved generate via whole genome sequencing a national genomic reference dataset based on their own national population cohort, all according to jointly established '1+MG-proof' guidelines. Each country's dataset will form a unique national reference collection in its own right. The collection will benefit national personalised healthcare and prevention strategies.
Collectively, crosslinked via the 1+MG initiative, the national collections will establish a world-class European reference data resource (The Genome of Europe) for research and innovation of healthcare.
Main outcomes and deliverables
General information:
Technical infrastructure:
Legal, ethical and governance aspects:
Data integration and quality:
Healthcare implementation:
Latest news
Related Content
Big Picture
eHealth
The European Commission is working to provide citizens with access to safe and top quality digital services in health and care.
European Cancer Imaging Initiative
The European Cancer Imaging Initiative will unlock the power of imaging and Artificial Intelligence for the benefit of cancer patients, clinicians and researchers.
Managing health data
The European Commission adopted a Communication and a Staff Working Document on Digital transformation of health and care to boost European Union action.
eHealth experts
The European Commission created two expert groups working on eHealth: the eHealth Stakeholder Group and a temporary eHealth Task Force.